How to Apply for a Study Permit in Canada?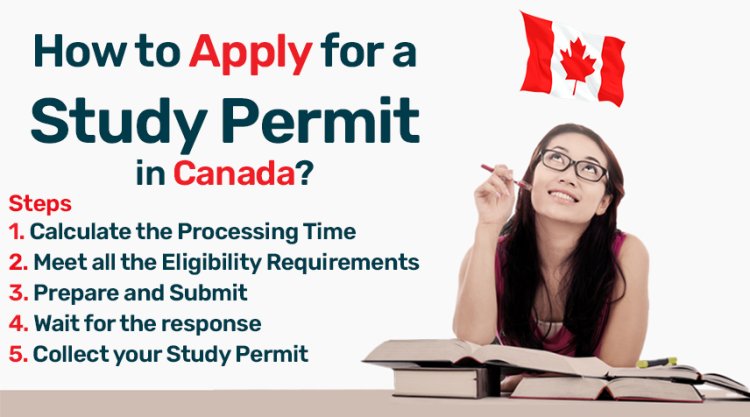 Over the last decade, Canada has made its place among the most sought-after countries for foreign education. Every year thousands of students apply for a Canadian student visa.
Now the question arises...
Why Canada?
Well, there are many other countries with promising education policies for foreign students. Still, Indian students highly gravitate towards Canadian institutions. There are certain factors responsible for the increasing applications for a student visa for Canada:
Quality of Education:- The quality of education is the foremost priority of Canadian institutions. Therefore, high academic standards are maintained throughout Canada.
Quality of Life:- Easy access to clean air, water, and food make it a peaceful country for pursuing higher education. You will also benefit from the world-class healthcare and educational infrastructure at your exposure.
On-field Skill Development:- Canada is full of cooperative work opportunities. You can gain on-field work experience while studying. It will prepare you for the work environment of your relevant sector.
Part-time Jobs:- Your Canadian student visa also allows you to work part-time to cover your expenses. You can work in any ethical workplace on-campus or off-campus.
Affordable:- Considering the quality of education, academic fee in Canada is relatively economical. Gone are the days when foreign education was a luxury limited to financially affluent students.
Now that you are fixated on getting a Canadian student visa, you should start with a study permit.
Apply for a Study permit
A study permit is a document that allows an international student to study in a foreign country. Therefore, you need to apply for a study permit for Canada. There are certain exemptions for short-term international programs but in most cases, a study permit is a must.
In this article, we will cover study permit requirements as well as the application process.
Let's get started.
Study Permit Requirements
Before you apply for a study permit for Canada, you should fulfill the eligibility criteria regulated in accordance with Canadian education policies. You need to submit the below-mentioned Canadian student visa requirements to get a student permit for Canada:
1. Passport:- Indian students require a valid passport to apply for a Canadian student visa. The validity of your passport should cover the whole duration of your enrolled course.
2. Proof of acceptance:- In order to apply for a study permit for Canada, you should obtain an acceptance letter beforehand. An acceptance letter is one of the most important requirements for a Canadian student visa. Therefore, you should plan accordingly and get your letter on time.
3. Proof of funds:- According to Canadian immigration, a student requires a minimum of CAD 10,000 every year. You need to prove that you are financially equipped to cover your academic as well as living expenses. It is also beneficial for you to keep those funds intact as it will secure you from any financial mishaps.
4. Medical Examination:- Every international student should go through an Immigration medical examination from any doctor recognized by the Canadian immigration. You should get it done before applying for your Canadian student visa. It is to ensure that you aren't carrying any highly contagious or life-threatening disease over international borders.
5. Language proficiency score:- It is not mandatory to have your proficiency score while applying for a study permit for Canada. However, you will need it sooner or later. Therefore, it is advised to obtain it before the confirmation of your admission.
6. Purpose statement:- It is another optional document that we recommend you submit as it will affect your chances of getting a study permit for Canada.
7. Supporting documents:- There are many other supporting documents that you should attach while you apply for a study permit for Canada. Keep your documents updated to avoid any last-minute hassle.
Even after you meet all the Canadian student visa requirements, there are certain guidelines that you should respect throughout your study period in Canada:
Enroll only in a Designated Learning Institution recognized by the immigration department.
Make steady progress in your enrolled program.
Maintain your integrity and respect all the listed terms.
Leave the country as soon as your Canadian student visa expires.

Also Read: Reasons to study in Canada
Getting a study permit and maintaining a study permit are two different things. Every inappropriate step will take you close to deportation. Always remember the purpose of your visa and work for it diligently.
Application process
Just like any other application process, there are certain steps for applying for a Canadian study permit:
Step 1: Calculate the Processing Time:
You should start the application process around 3 months prior to your study period. It takes time to prepare all the required documents. Last-minute preparations can halt you until the next study session.
You should consider all the rotations and plan accordingly.
Step 2: Meet all the Eligibility Requirements:
You should obtain all the above-mentioned Canadian study visa requirements to complete the application. Prepare all the valid and up-to-date documents before starting the application process.
It is advised to get your application reviewed by a qualified immigration representative. They will help you cover all the possible errors that might lead to rejection later on.
Step 3: Prepare and Submit:
Now that you have arranged all the required documents, you can apply for a study permit for Canada.
You can submit your application in two ways:
Online: For online submission, you should scan all the documents and upload them with the application form. However, the online submission is not completely online as you need to visit the VFS office to submit your passport and fee deposit confirmation.
Offline: For the offline mode of submission, you should refer to the application kit available on the internet. Complete the form according to the checklist and submit it to the nearest Visa Application Center.
Step 4: Wait for the response:
If everything goes well, you will be asked to submit your passport. After verification, you can collect your Temporary Resident Visa and Letter of Introduction.
Step 5: Collect your Study Permit:
The Introduction letter will help you obtain your study permit from the immigration official at the Canadian Port of Entry. Make sure you have it on you when you reach Canada.
Conclusion
Today, foreign education is within the grasp of every student. In addition to the high-quality education, favorable government policies, and post-study immigration opportunities make the Canadian student visa a perfect deal for Indian students.
What's Your Reaction?