How much will it Cost to Study in Canada?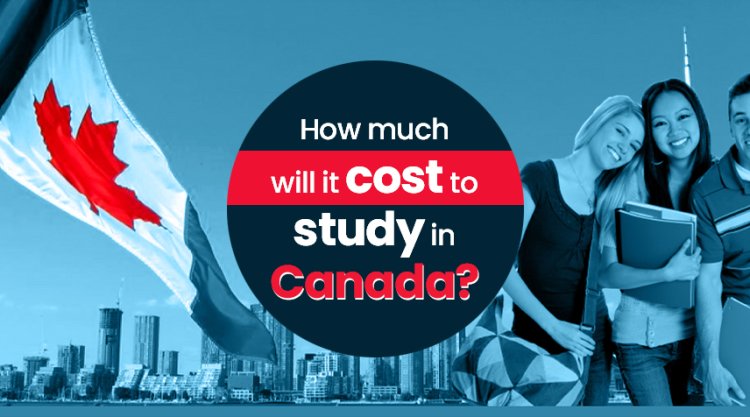 Canadian universities are one of the best institutions for pursuing higher education. The globally recognized education and lifestyle make the country a no-brainer for international students.
Canada offers a wide range of courses for students from various streams. Also, the education policies for foreign students are very thoughtful. When it comes to education, you can never go wrong with Canada.
Apart from education, another major concern of students is the average cost of University in Canada. We don't blame you, foreign education is usually associated with high expenses. Luckily, Canada is one of the most affordable countries for education.
In this article, we will cover all the factors affecting the total cost of study in Canada for Indian students.
Cost of Studying in Canada
All the private institutions are free to design their fee structure. Therefore, education cost varies from institution to institution. Your study program and education level also play a major role in determining your annual fee.
As an international student, your main expenditure is going to be your tuition fee. It can go from CAD 15,000 to CAD 30,000 annually. Some colleges might exceed the estimate but the average cost of a university in Canada falls under the same bracket.
An average student requires CAD 15,000 to cover the living expenses on yearly basis. However, you can make certain adjustments to your lifestyle to lower the expenses even further.
If you choose to live in cities like Toronto and Vancouver, you should deepen your pockets. Although cities like Ottawa can cut your living expenses significantly.
Tuition Fees in Canada
Just like in any other country, the average cost of a university in Canada depends on the type of qualification, program, and institution.
While studying in Canada, your tuition fee is going to be your major expense. Therefore, you need to choose your college accordingly. Universities like McGill and Montreal are one of the cheapest education institutions in Canada.
Also, the average cost of a University in Canada falls significantly if you manage to pull off a scholarship. There are many scholarship programs even for international students. You can do your research and choose what's best for you.
Course-wise Cost of Education in Canada
The total cost of study in Canada for Indian students also depends on the course they want to pursue.
Education cost is different for all universities around Canada but here is a course-wise estimation of expenses for your reference. You can use this information to plan better for your foreign education.
Undergraduate:
The cost of an Undergraduate course is somewhere between CAD 12,000 to CAD 30,000 annually. You can further categorize them into:
Engineering and Medicine: Compared to any other undergraduate course, engineering and medicine are highly expensive. They can cost around CAD 22,000 per year.
Humanities, Business, and Management: These undergraduate courses are one of the least expensive undergraduate courses ranging from CAD 5,000 to CAD 7,000 annually.
Arts: Arts is an affordable line of education, even in Canada. You can pursue any bachelor's course in arts for around CAD 5,000 per annum.
Postgraduate:
Postgraduate courses are more expensive than undergraduate courses. The average annual expense for a master's course is CAD 18,000 to CAD 60,000. Courses like MBA or MBBS are at the higher end but other courses fall somewhere around the middle.
Executive MBA in Canada can go as high as CAD 65,000 per annum.
Diploma:
Diploma courses are inexpensive and short-duration programs. Not only do they cost less annually but also the overall tuition fees reduces because of the short duration. A diploma course in Canada can cost you around CAD 2,000 to CAD 17,000 yearly.
Canadian colleges keep updating their fee structure and scholarship programs. Therefore, you should update yourself before applying.
The Average Cost of Living in Canada
In Canada, the cost of living is significantly higher than the cost of education because of its quality of life. Therefore, you should plan your expenses ahead of time. There are certain aspects to the cost of living:
Housing:
If you are planning to stay in an on-campus residence, you should think about the expenses. The best housing option for a student is to rent and share an apartment. It also distributes the expense of basic utilities like electricity, water, internet, etc. A single-room apartment costs around CAD 1,000 per month. Whereas, student residences cost about 300-700 CAD per month.
Transport:
Students living close to campus can walk to campus but you need to use public transport every once in a while. You can also purchase a monthly transport pass to avail discount on public transport. A transport pass usually costs around 90 CAD per month.
Insurance:
If you are planning to study in Canada, you should get health insurance beforehand. There are no exemptions for international students when it comes to health insurance. Annual premium of health insurance costs around 800 CAD.
Taxes:
If you choose to work any part-time job while studying in Canada, you are a taxable citizen. Therefore, you should take your income tax into account.
Conclusion
Pursuing higher education in Canada can be life-changing. The average cost of a university in Canada might be a huge investment on your end but its return on value makes it a promising bargain. You should make constant progress towards your goals and make it worth it.
What's Your Reaction?