Is it Worth Study Abroad for Indian students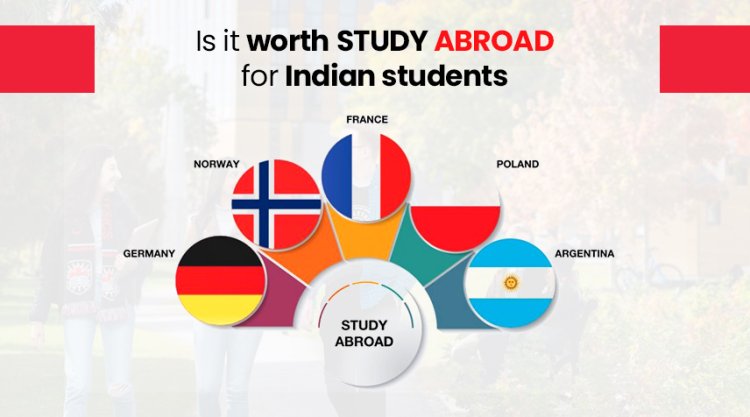 Confused about the differences between studying overseas and in India?
University Bureau explains the benefits and drawbacks.
There are numerous additional hurdles and problems that come with studying overseas that students in India won't experience. In addition to these problems, students who study abroad typically have to pay a lot more for their education. Given this, a lot of Indian students struggle to decide whether or not an international degree is genuinely worth the hassle. University Bureau will delve into this more thoroughly by weighing the benefits and drawbacks of pursuing your degree domestically versus abroad.
College and Living Expenses
The cost of tuition at the majority of well-known study abroad destinations will undoubtedly be significantly higher than what it would be to continue your education in India. For instance, the annual tuition at one of the best universities in the United States can exceed $50,000 USD. Prices in India, on the other hand, might be as cheap as $150 USD a year. The price disparity is not limited to tuition costs; it is unquestionably the main factor in why Indian students may choose not to study abroad. In general, the cost of living is significantly greater in the majority of study abroad destinations, including housing, food, clothing, entertainment, and other expenses.
In reality, according to numerous assessments, India is the second-cheapest country in the world to live. Publications compared the prices of rent, food, and other products and services in 112 different nations and came to the conclusion that India is the second-most affordable country in the world to call home, only after South Africa. Therefore, India will undoubtedly be the most affordable alternative in terms of expenditures, but if you really want to study abroad, this shouldn't stop you. The cost of tuition is relatively low in several European nations and in Canada. Scholarships are a fantastic way to save expenses.
The majority of nations provide some kind of scholarship for international students, which can significantly reduce or perhaps even totally cover your tuition costs.
Learning from Industry Experts
There are thousands of universities in India, so why do students choose to study abroad? Learning from pros in the sector is one of the key causes. To become the best, you must learn from the best.
Students with degrees from prestigious colleges around the world are hired by major international firms. That's because recruiters believe that the calibre of education is incredibly significant.
Learning will be made simpler by the high standards of educational excellence offered by colleges abroad. Additionally, you will be worth more on the job market and it won't be difficult to land your ideal position.
Job Options
It's probably a good idea to consider studying abroad if your objective for employment after graduation is to work abroad. While getting a work visa with an education from India is doable, your chances of success are much higher if you graduated from the nation where you want to work. Many nations, like Canada, have policies that make it very simple for anyone who obtained their degree within their borders to obtain a work permit. Even after graduation, you can apply for permanent residency in certain of these nations. There are several benefits to working abroad, particularly if the company you want to work for is located elsewhere.
Your domestic work choices may increase if you get a diploma from a respected university abroad. With an Indian degree, you should have no trouble obtaining employment in India, but a degree from a reputed foreign university may give you an advantage in the local job market.
Differences in Salary
Additionally, the location of your studies may affect your annual earnings. Your value on the employment market, both in India and abroad, might be significantly increased by a degree from a prominent foreign institution, like Harvard or Oxford. If the job you land is in a country like Australia or the US, the wage boost will be significantly greater.
For instance, a Harvard Business School graduate working in the United States might expect to earn up to 80 lakh per year, while an MBA graduate from IIMs in India can expect to earn anywhere between 15 and 30 lakh per year. It is vital to keep in mind that tuition and living expenses are significantly less expensive in India, even if it is obvious that graduating from a top business school abroad will significantly increase your earning potential. Therefore, even though your annual salary may be substantially larger abroad, you'll probably also have a lot more debt to pay off.
Global Perspective
Students who choose to stay in India may lose out on developing the global perspective that most study abroad students do. Understanding people from various cultures and backgrounds is more crucial than ever in the modern global business. Any student who chooses to study abroad will get immersed in a very different culture and learn how to get around in a foreign country while engaging with other students from various nations. A better grasp of how to interact with people from diverse cultures and countries can be instilled as a result.
It's not simple to decide whether to stay in India or move out to further your studies abroad. Decide what is most important to you and make your decision based on that. Both options have many excellent benefits and their fair share of drawbacks.
Do you require assistance to begin? University Bureau is pleased to assist you. Top universities in the USA, UK, Canada, Australia, and other countries are familiar to us.
Speak to our experts @ 0-806-900-9000/0- 93-555-000-42 ,or drop an email to support@universitybureau.com, let's launch your career in study abroad
What's Your Reaction?