Top Universities in Canada for MS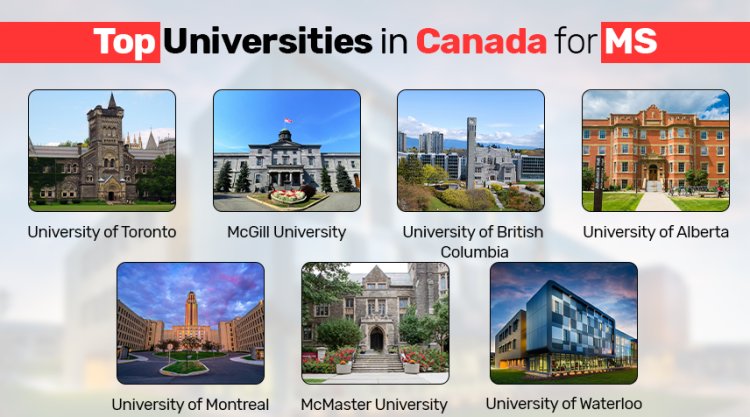 Every year, QS world university rankings feature 25+ Canadian universities. It is not surprising that Indian students crave to get a taste of Canadian education and lifestyle.
Despite the acceptance rate of almost 50%, thousands of Indian students flock around Canadian institutions to get the chance of their life. Well, an English-speaking country with such high education standards is hard to skip.
Especially when it comes to high-investment high-return courses like MS, students prioritize Canada for its globally recognized, affordable education.
Even if you limit your search to Study In Canada, it houses some of the best institutions for MS.
With so many great institutions around, it is hard to pinpoint a top University for MS in Canada.
That's what brings us here today. In this article, we will cover all the major aspects of MS in Canada.
Let's start with the obvious one.
Why Study MS in Canada?
MS is a course that focuses on further enhancement of your skills. It requires advanced research facilities to make the best out of your Masters's degree.
We hear a lot about Canadian education and Infrastructure but you shouldn't take my word for it.
Let me highlight the reasons that make MS in Canada worth all your efforts, time, and money:
1. World-class Institutions
As mentioned above, QS World University rankings think highly of Canadian Institutions. It is not easy to make it to the QS rankings. It takes top-notch facilities, faculties, and infrastructure to achieve that feat.Every university in Canada offers world-class MS courses for International students.
2. Wide Range of Specializations
The first step towards finding your dream college is realizing the niche that works best for you. You can either base your specialization on your graduate degree or your line of career.
Canadian Institutions offer a wide range of MS specializations. Go for any educational field and you will find a college with that subject in their catalog.
3. Affordable
In the past few years, the Canadian government revised its educational policies to make education accessible for International students. Today, foreign education is not a luxury limited to the royalties.
Education in Canada is very affordable considering the value it brings for a student.
4. Scholarships and Fundings
Most Canadian universities are government-funded. Even if you wish to pursue your MS from a private institution, there are plenty of scholarship programs for international students. Just look at the right place and you will surely find financial aid that will support your education.

5. Globally Recognized
Canadian universities are globally recognized for providing high-quality education. On top of that, the most reliable ranking parameter, QS makes them globally acknowledged institutions.
If you have a Canadian MS degree, you can land a job at any prestigious corporate.
6. Way of Life
As an Indian student, the Canadian way of living is something to look forward to. Fresh air, open grounds, solid infrastructure, everything about Canada is appealing. Living in Canada feels like you are on a relaxing vacation.

Top Universities in Canada for MS
Here is the list of the top 7 Canadian universities for pursuing an MS:
#1: University of Toronto
The University of Toronto is ranked #26 in the QS world university ranking this year, which makes it the highest-ranked Canadian University.
The University of Toronto is spread over 3 campuses, where international students make up around 20% of its total student population.
The University of Toronto offers a world-class education in Business and Engineering courses.
On top of that, Toronto is a great city to live in. The University of Toronto offers in-campus and out-campus residential accommodation to its international students.
#2: McGill University
With an overall score of 84, McGill University is ranked #27 in the 2022 ranking. McGill has a high number of Rhodes scholars, which is an achievement on its own.
Students from over 150 countries are pursuing their education at McGill University. It is known for its research-based curriculum.
Biological, chemical, and mechanical specializations are the most popular courses offered by McGill University.
#3: University of British Columbia
The University of British Columbia is again placed in the top 50 universities by securing the #46 QS rankings.
Surrounded by beautiful landscapes, the University of British Columbia is known for its engineering programs. Along with quality education, students get extensive healthcare and residential services.
This university is known to have a really fun student life.
#4: University of Alberta
The University of Alberta is one of the top 5 Canadian universities that is ranked #126 by QS.
The University of Alberta has one of the highest student funding rates in Canada. It also offers MS in a wide range of subjects. It offers more than 500 graduate programs, covering over 250 specializations.
If great research facilities intrigue you, you should consider Alberta. It is equipped with around 300 research areas.
#5: University of Montreal
Currently, the University of Montreal holds the #111 position in the world ranking.
It is a french-language university located in Montreal. So, if you wish to apply to Quebec's largest teaching and research institution, you need to start with your French skills.
This university is known for its education in Science and Medicine. As an international student, you will benefit from its research facilities.
It attracts over $500 million in research funding every year, making it one of the top research hubs in Canada.
#6: McMaster University
McMaster is a public research university, that is ranked in the top 150 universities in the world by QS.
It is one of the top 3 research facilities in the country. As a Master's student, you can work on your research with the best educators and best research labs.
#7: University of Waterloo
Ranked #149 in the 2022 world ranking list, the University of Waterloo has a widespread network that benefits faculties and students alike.
As the technological hub of Canada, Waterloo offers comprehensive learning engineering programs. If you are planning to pursue Nano, Civil, Electronics, or Communication engineering, you know where to apply.
As an international student, you will also get a separate wing on the campus.
Popular MS Courses in Canada
Here are some of the top MS specializations in Canada:
1. Biology / Physics / Chemistry / Mathematics
Canada offers high-quality research-based MS education. If you are a science graduate and wish to enhance your core specialization, you should definitely look for MS in Canada.
Even if you wish to go further with MS in biophysics, astrophysics, biochemistry, statistics, etc, and narrow down your specialization, Canada is the place for you.
2. Health Science
Canada has one of the best healthcare infrastructures in the world. Therefore, an MS in health science from Canada makes more sense. You will learn the real-life application of advanced healthcare equipment in Canada. Also, you can secure a job in Canada itself.
3. Computer Science
Computer Science is one of the most sought-after courses in the world. You can pursue your MS in computer science from anywhere in the world and get a job. However, some universities have an edge over others. Learning computer science in Canada will prepare you for the world's best tech companies.
4. Mechanical Engineering/ Electrical engineering/ Civil engineering
Engineering courses like electrical, civil, and mechanical are also popular MS courses in Canada. You can benefit from advanced laboratories, research facilities, and infrastructure in Canada. You will have exposure to the best learning environment in Canada.
5. Business Studies and Management
International students think highly of MS in business courses from Canada. A large chunk of students goes for business studies. You can choose from a wide array of specializations in Canada. Having a Canadian business degree can give you a headstart in your career.
6. Finance / Economics
Canada is a prime example of a perfect economy. In addition to high-quality education, you will have a test subject around you depicting how an efficient economy works. You will have first-hand experience in the financial management of a huge framework.
7. Biotechnology
MS in biotechnology is a newfound specialization among students. This course gained recognition in the past few years. MS in biotech can give you a career as a biotech professional, analyst, entrepreneur, etc. It has a wide scope in the coming future.
8. Food Science
If you are passionate about professional work in the food industry, you should consider pursuing MS in Food Science. It is a short-duration program that focuses on practical experience in the food science industry.
Eligibility for MS in Canada for Indian Students
To apply for MS in Canada, you need to fulfill some requirements:
1. Undergraduate Degree
To apply for MS in Canada, you need a 3-4 year graduate degree or any equivalent course that holds relevance to your Master's degree.
2. GPA of 3.0 or above
Canadian universities have some academic standards. You can not pursue MS with a low graduation score. You need a GPA of 3.0 or above to apply for MS.
3. English Language Proficiency Exam
If you are not from an English-speaking country, you should have a decent score in an English Language Proficiency Exam like IELTS, TOEFL, PTE Academic, etc. It is a mandatory step to ensure that you will not face a language barrier while pursuing your MS in Canada.
4. GRE Scores
Many Canadian universities emphasize a GRE test. Your GRE score supports your academic records, qualifications, etc, and strengthens your chances of getting into a university.
5. Canadian Visa
As an Indian citizen, you need a Canadian Visa to enter Canada. Even after you manage to get an acceptance letter and a study permit, you need a travel visa to reach Canada and collect your study permit.
7. Acceptance letter
To apply for a study permit, you need to have an acceptance letter from a Canadian University. Just to be sure, it is wise to have two or more acceptance letters to avoid any last-minute mishap.
Conclusion
Canada is a dream country for many Indian students. It is one of the safest countries out there. We hear a lot about the impeccable administration in Canada, making it a perfect destination for education and job. You should start with the above-mentioned list of top Canadian universities for MS. Start the application process on time, and you will definitely make it to your dream college to pursue your dream education.
What's Your Reaction?