Benefits of Studying Abroad For Indian Students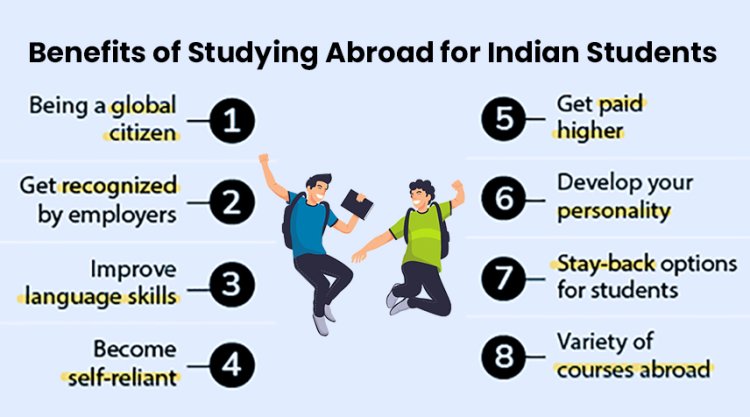 Studying abroad is the best way to boost your career. A decade ago, people were very skeptical about going abroad for higher education because of the high cost and security concerns. Now, favorable education policies, return value, and accepting culture changed the picture of foreign education.
Over the last few years, the number of Indian students studying abroad has increased exponentially. Also, the right guidance from education agencies spiked the approval rate of study permit applications.
Studying abroad is not just a fancy dream. There are so many benefits associated with it. In this article, we aim to cover those benefits.
Why study abroad?
For Indian students, studying abroad has a fascinating ring to it. Students strive to have a glimpse of their lifestyle and study there. However, the question arises,
Is it really worth it?
YES. It is worth going all the way to another country and paying more than any of your native colleges. The reason is the never-ending list of social, financial, and cultural benefits that you get along with your degree.
#1: Widen your Horizon
Living in the same place throughout your life can make you resistant to change. You will have a narrow mindset and you will overlook others perspectives. An international campus is the best place to experience cultural diversity from all around the world. You live with them, learn with them, and share a bond. It will make you open to change and respect different cultures.
Living by yourself and facing different challenges every day will also enhance your problem-solving skills. When you are away from home, every day is a new experience and this experience will come in handy while handling real-life situations.
Your journey throughout college will prepare you better for the world.
#2: World-class Education
The main reason for studying abroad for Indian students is a world-class education. Students are willing to pay hefty amounts of tuition fees to get their hands on high-quality education at international institutions.
Every country emphasizes a different learning method. By opting for foreign education, you have different countries with different institutions with different courses to choose from.
You can never go wrong in terms of education quality but it is wise to choose the college which complements your course preference.
By broadening your umbrella, you are no longer limited by what is available. You can pick any university or course out there.
#3: Master a new Language
Learning a new language can broaden your career scope. You will have a lot more opportunities than your peers who are limited to one or two languages.
Now you must be thinking that you can learn a language by opting for a language course in your country as well. However, the best way to hone a new language is to live around it.
Interacting with fluent speakers regularly can polish your new language significantly faster. You should indulge in small talks, perform mundane tasks and interact using their language. It will give you a sense of affinity and boost your confidence.
#4: Worldwide Network
We are social beings and build connections throughout our lives. Usually, your connections are limited to your nationality. However, being an international student gives you the chance to have a global network.
Having friends in different countries is a unique flex. It broadens your mind and opens you up to more opportunities.
Your peers who are also pursuing education from reputed institutions can propel you in a lot of ways. Sometimes, these connections turn into life-changing opportunities.
Having a strong group of friends inspires you to thrive and do more in life.
#5: Tons of Career Opportunities
Finding a job abroad is not easy but if you are an international student, you will have a lot of career opportunities worldwide.
Countries provide post-study work visas to their students on easy terms. You can also apply for a job in any country and you have a higher chance of getting selected. Companies seek students with international degrees for their high-quality education and flexibility.
We Indians see foreign education as a mark of academic excellence and a stable financial background. Your colleagues will respect you at your workplace and see you as a dependable member of the team.
How to Choose a Study Abroad Program
Studying abroad is a crucial decision in your life. You can not just go for the trendy one. You need to consider your expectations from your program and research to find the best available option for you.
There are certain points you need to evaluate your compatibility with a college. Your college should fit your goals.
Here is a list of a few points to help you choose a study program:
Early education
You can use your early education like graduation and high school as a reference for higher education. You can go for the program that will add value to your previous qualifications.
It is also essential to check with your college as some colleges have eligibility criteria. Make sure your grades match their requirements.
Line of Interest
Learning a subject that doesn't intrigue you for the next few years can be a drag. Even after that, you will get a job in the same domain leading to even more mental stress.
We are relatively good at the subjects of our interest. It will be easier to score and get a job at the same. Even if it doesn't align with your previous education, try to find a course that gets along with your interest.
Dream Job
If you have a clear image of your dream job, you should try to turn it into reality. Apply to the college that specializes in that particular course.
Plan your decisions based on their alignment with your dream job. Set a course of action that takes you closer to it.
Objectives
You should always try to learn your objectives beforehand. If your college has a good campus but it doesn't fulfill your academic expectations, it is not worth it. Find a college that helps you realize your goals.
Ask us
If you still couldn't decide on the best course of action, we are here to assist you. Our University Bureau will help you find the best country, college, and program for your foreign education. Our counseling sessions will help you pinpoint your destination and how to reach there.
Conclusion
For Indian students, studying abroad is like the holy grail of education. If you ever get a chance to study abroad, you should grab it as it will turn out to be the best investment of your life.
What's Your Reaction?