Get Free Study Abroad Counseling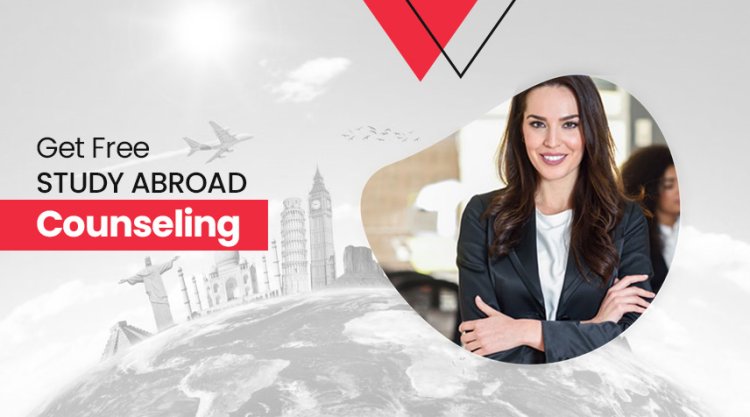 Studying abroad is a life-changing experience as you get the opportunity to kick start your future career. All the challenges you have faced throughout your academic life have amounted to your progression to higher education.
For many students, their college/university years are the most memorable and rewarding experience, and studying abroad makes that memory unforgettable.
By studying abroad, you will get the chance to travel the globe, not only to the country you are studying, but you will also find it easy to travel to other countries. The question here arises: how?
There are specific courses and programs where students can access trips and excursions.
Certainly, living and studying abroad will help your personal development, as you will be learning and experiencing different cultures and lifestyles and thus enrich your perspective on life. Another important factor in studying abroad is the opportunity to learn a new language. Nowadays, the demand for bilingual workers is increasing with some employers, and even the employees offer language bonuses on your salary.
Remember: To have a second language is to have a second thought.
Studying abroad may allow you to save money, as many countries have low-cost living fees, which suit students that are on a tight budget. To surprise you, international tuition fees are cheaper than universities in your home country.
You will also gain financial independence, and your confidence will increase as living in a foreign country away from family will give you a sense of independence that will boost your confidence and perspective on the world.
Global Times
Globalization is everywhere, and the professional world waits for you upon graduation. Technology keeps advancing, and employers seek workers having cross-cultural competence and cutting-edge technical skills.
As discussed, studying abroad expands your horizon while opening up a world of personal and professional opportunities. Studying abroad enables today's students- the future leaders from all backgrounds and sectors- to gain access to international experiences that will help prepare them to be global citizens.
To meet the increasingly global marketplace demand upon graduation, studying abroad should be an essential component of many undergraduate degrees. Students need as much international exposure as they can get. Studying abroad is a smart way to establish your international credentials.
Destinations for study abroad continue to expand and adapt to change in the global marketplace. With time study abroad programs will continue to change as the global economic and political landscape evolve.
If you are looking for an opportunity to study abroad and then get into a job, consider studying in a rising global economy with strong GDP growth. Believe the team of the university bureau, they always push you to get out of your comfort zone and experience another culture and education system. This makes studying abroad a meaningful and enlightening event, as it will become an integral part of your life.
While you are abroad, you will discover learning in a new way; you will experience a different approach to teaching, learning, assignments, and homework. Working with these differences will prepare you to work with colleagues, supervisors, and clients from diverse backgrounds.
After studying abroad, most students will never view their education in the same way again. The experience is so powerful that it often influences subsequent educational endeavors.
Let's know the top 10 reasons to study abroad:
Learn about yourself and become self-aware.
Boost your self-confidence and independence.
Learn about our own country.
Learn another language.
The world view will expand.
Strengthen adaptability, communications, and team-building skills.
Enhance your career opportunities.
Experience another culture.
Travel.
Make new friends from around the world.
Choose the right course for study abroad.
So how do you decide what to do? For the inside scoop on how to reach where you want to be - faster - check out our Top 10 prime advice on picking your course.
Prime advice 1: Why?
The most crucial factor in selecting your course is asking yourself why you want to study.
Do you wish to broaden your skill set to advance your career? If so, you should pick a course that builds on your current knowledge and credentials in a field that interests you. Choosing a course that is pertinent to your line of work is advised if your goal is to advance with your existing employment.
Finding out what degree will benefit your career can be determined by discussing study possibilities with your peers, coworkers, or employer.
Are you looking to broaden your expertise or make a total career change? If you want to change careers, you might need to do some studying. If this is the case, it's critical that you think carefully about the career you want to pursue. It might be expensive to study, so thoroughly investigate any potential careers.
Prime advice 2: What do you truly find interesting?
Consider your interests and the courses you wish to take; they are very significant. Is it because you can already picture your glamorous, exciting job ahead of you? Or is it just because your parents want it? You may determine the precise course you want your course to take you on by asking yourself questions right now.
Prime advice 3: Where would you wish to enroll?
This is divided into two parts. Which nation is the best place to specialize in this field? Perhaps it is a nation with many internships and graduates job chances in that field. Or a location with access to specific resources. Why not travel directly to Australia's largest coral reef if you're interested in learning about marine biology?
An excellent question is: Where in the globe would you most like to reside for a while? This is a chance to experience a different way of life, meet new people, and learn a new language and culture. And if you're happy with your life, your academic success will reflect that.
Prime advice 4: Do a reality check.
Now that you've discovered your dream let's take a moment to confirm its viability. Can you afford the airfare, the expense of living, and the education? Are there prerequisites you must meet, such as English language competency or a minimum GMAT score? Don't give up; a route program can be all you need to overcome those obstacles. If you can demonstrate in your scholarship application that this is your passion, you might be eligible for financial aid.
You should also consider how long you want to study for at this stage in a realistic manner. Here are some examples of full-time study periods to aid in your decision:
MA: One year;
Postgraduate Certificate: Six months;
Undergraduate Degree: Three years;
Ph.D.: Four years.
Prime advice 5: Do your homework.
You must reduce all of your possibilities to a maximum of five sensible, realistic options. That requires much research. Start with University Bureau if you want to! To learn more about how it truly is, read blogs (https://universitybureau.com/blogs/). Glossy prospectuses may not always give you the whole picture, so ask friends who have studied in that nation or place for their firsthand accounts of the experience.
Prime advice 6: What matters to you?
You'll come up with a variety of different standards to use in evaluating a college or course as you do your study. Make a list of your top three requirements and cut it down to three. These could include factors like school reputation or rating, research resources, opportunities for internships and hands-on learning, tuition costs, student support services, safety, social life, and travel opportunities. There are so many different factors, so what is correct for one person may be entirely incorrect for another.
Prime advice 7: How do you prefer to learn?
Hopefully, you now have a general concept of how you like to study. And we certainly hope the response isn't "by sleeping" or "by crossing our fingers as we enter the exam room." Final exams are preferred by some people, whereas regular assignments keep other people occupied all year. Some people prefer theory, while others prefer real-world, hands-on application. Some people prefer to work in groups, while others prefer to work alone. Some people like to convey their work orally, while others like to write reports. You'll feel more secure about succeeding if you enroll in a course that fits your preferred learning style. Alternatively, if you want to stretch yourself, pick a course that will force you to step outside your comfort zone!
Prime advice 8: Consider your career options.
Consider studying abroad as an investment in your future, as it can be costly. Your career and your income fall within this category. Find out if there is an active alumni network, the chance to meet business leaders during your study, and where other overseas students from that university have worked after graduating.
Prime advice 9: Pay attention to the details
Every subject has a wide range of alternatives. Therefore it's important to identify your most specialized area of interest. Engineering students have a variety of options, including biomedical and civil engineering.
Prime advice 10: It's possible to modify your opinion.
Yes, this is a crucial choice. However, it's not too late if you arrive and realize you made a bad error. Find out if there are any better possibilities for you by speaking with the student counselor on campus. Don't waste the next five years of your life reading textbooks that you have absolutely no interest in. It's all about your passion, so never lose it. If you do, you'll succeed.
Let's take a look at the courses to study in various fields after the 12th:
After finishing your 12th grade, you will have a wide range of options for studying abroad in the subject of commerce.
After 12th commerce, the most popular courses to study abroad are:
Bachelor of Business Administration
Diploma in Business Administration
B.S. in Management Science
BA in Management Science
BA in Finance Management
BA in Accounting Management
B.Com. (Finance and Accounting)
Marketing
Economics
Mathematics
Australia, Canada, the UK, Germany, and Singapore are some countries with commerce-related colleges such as Victoria University, University of Toronto, Munich Business school, etc.
Study abroad after 12th Science
Students in the scientific discipline might select between a medical or non-medical track. In both ways, you can take courses to study abroad. Choose a stream based on your interests.
Some of the courses for studying abroad after 12th grade are listed below:
Study abroad after 12th medical
Doctor (MBBS)
Veterinary (B.V.Sc)
Homeopathy (BHMS)
Ayurveda (BAMS)
Optometry (B.Optom.)
Public Health Administration
Occupational Therapy
Physiotherapy
Clinical Research
Radiology
Audiology
The UK, the USA, Canada, and Australia have the best colleges that specialize in medical courses.
Study abroad after 12th Non-Medical
After 12th grade, you can study engineering in another country if you pick a non-medical field. The following are some of the most popular non-medical courses:
Chemistry
B.S. in Engineering Management
Bachelor of Engineering Management
Mechanical Engineering
Civil Engineering
Electrical Engineering
IT Engineering
Biomedical Engineering
Energy Management and Engineering
Aeronautical Engineering
Automobile Engineering
Sound Engineering
Civil engineering
These are the best courses to study after the 12thscience group. The USA, Australia, the UK, Singapore, and Germany are some of the best countries to study engineering.
Study abroad after 12th arts
You can select the arts field if you are not interested in commerce or science. After finishing your 12th grade, there is no doubt that you will be able to discover art courses all around the world. The following are some of the most popular courses:
Bachelor of Arts (B.A)
Journalism and Mass Communications
Law
Bachelor of Business Administration (B.B.A.)
Fine Arts
Hotel Management
B.S. in Product Design
Bachelor of Interior Design
BA in Interior Design
The arts stream helps the students in verbal and written communication. The countries that offer the best education in the arts stream are the UK, France, the USA, and Canada.
Required documents for studying abroad
The most vital phase of your journey is applying to study abroad, so it is essential to prepare in advance. To ensure admittance to the program or school of your choice, it's critical to get started working months in advance.
The following essential papers are required for applications to universities abroad:
Application form
The most crucial document, the application form, contains all of your personal and professional information. An application form must be meticulously filled out with accurate information. Check everything twice before submitting.
2. Statement of Purpose (SOP)
The most crucial part of your application, this essay will primarily discuss your past, the reasons you chose to enroll in the program at the specified university, and your professional aspirations. Spend much time crafting your SOP essay because it will make your application stand out from the hundreds of others.
Academic transcripts
This is essentially your transcript, which will list all of the courses you've completed together with your grades, credits, and degree earned, much like the consolidated mark sheet we have in India.
Letter of Recommendation (LOR)
A LOR is a letter of recommendation for academic work from any of your instructors or supervisors that discusses your abilities, successes, experience, and contributions to your college or professional organization. The admissions committee can learn more about your life through this letter and make an informed decision on your admittance.
Curriculum Vitae (CV) or Resume
A CV or resume will thoroughly overview your academic and professional history. Don't go overboard when listing all of your degrees, certificates, internships, and relevant professional experience.
Test Scores
Your chances of getting into the institution or college of your choice will depend on your test results, as was previously discussed. As a result, you must include your test results with your application.
Most nations and institutions require your results from English language proficiency exams like the IELTS (International English Language Testing System) to confirm that, in addition to being able to communicate, you can read, speak, and write in English. Your test results must be included with your application.
You might also be needed to take broader, more generalized examinations like the SAT or GRE, depending on the nation and institution you choose.
Essays
Certain universities may ask you to write a study abroad essay to ensure that you are serious about your plans to study abroad. The opportunity to make a fantastic first impression and demonstrate to the university administration that you are prepared and determined to pursue the desired route in their organization may both be found in this essay.
Last but not least, you must have a passport that will still be valid at least six months after the date you intend to return. If you don't have a passport or it's about to expire, you should apply for one right away or have it renewed.
Make sure to submit your application to the colleges or universities you've selected before the deadline. Our knowledgeable foreign education professionals will accompany you the entire way to take the hassle out of the lengthy application process.
Things to know about University Bureau
University Bureau, an Overseas student Recruitment AI-Enabled Platform, a product of Infobirth Innovations Pvt Ltd and Infobirth Innovations Inc, offers complete digital solutions for the overseas education industry.
Universitybureau.com is also a college search and review platform where students can view thousands of institutions and review them with their feedback to help other candidates willing to study abroad.
We are not just another company in the overseas education industry, but we are the one with a vast amount of experience and expertise, where we will offer you exceptional services. We have a qualified and dedicated team with numerous years of experience in overseas education and the capability of counseling students and suggesting them to the right institutions per their academic interests.
University Bureau makes your search easy to study abroad, simplifies your application filing, and makes your application acceptance process successful. We connect international students, recruitment partners (5,000+), and academic institutions (1,500+) on one platform across Canada, the United States, the United Kingdom, and Australia.
We provide you Quality Compliance and Visa (QCV) team to conduct in-depth checks on all visa and course applications by using intuitive automation tools. We aim to make the application process smooth and stress-free for students, recruiters and universities by providing 1-on-1 support worldwide.
We provide a student portal to recruiters, which saves recruiters time and gives students a seamless counseling experience. With us, students will understand that their application funnel and data are organized in one secure place by following a Privacy Compliance Program aligned with the General Data Protection Regulation.
University Bureau is a recruitment platform, providing End to End support from research to admission to visa and arrival at your dream Institute. We guide you at every step of the way 24x7!
Why choose University Bureau as a study abroad consultant?
Choose a university bureau for the best assistance to discover programs and institutions, get the best options for you, and prepare everything for easy submission of your applications.
Select your admission officer from our platform and get guidance from creating your profile to applying to multiple institutions and course selection from over 50,000+ programs.
We have a team of the world's best trainers from whom you can select your trainer using our platform (ieltsbureau.com) to prepare for the IELTS exam.
Our financial officers will provide exclusive scholarships and good financial support options.
Our top-rated certified visa counselor will help you at every step of the visa process, from application filing to document preparation. You can select a top-rated counselor at your convenience.
We have a team of over 5,000+ recruiters and certified experts for 1-on-1 support worldwide.
The University bureau believes that education must be accessible to all. We guide Students to study in their dream country and work hard for them to achieve their goals.
We guide, build confidence and help students worldwide to study and get the best international education. We provide a recruitment platform which enables institutions and recruitment agents to find and transact with each other, seamlessly.
What's Your Reaction?