Top 7 Colleges for Artificial Intelligence in Canada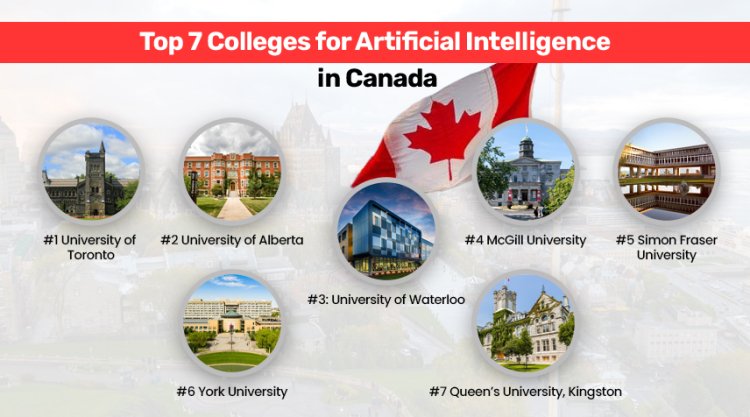 Artificial intelligence is a booming industry. In the last decade, artificial intelligence made its way from rarely accessible supercomputers to your personal lives. Today, we are surrounded by AI-powered tech like smartphones, smart automobiles, smart houses, etc. Well, machines were meant to reduce human efforts and artificial intelligence is taking it to the next level.
Wide-ranging exposure to smart devices is transforming the way we use technology. Devices are capable of processing information and taking the right steps accordingly. Any person from a non-technical background takes it as another technical advancement. However, the technically apt users know that there is a complex back-end structure making up for any reduced human effort.
Witnessing complex functioning every day and not knowing the intelligence behind it generates curiosity in tech enthusiasts. And that's one of the reasons for the increasing demand for artificial intelligence courses worldwide. Especially countries like Canada are taking the cream because of its high preference in the education sector. Top colleges for artificial intelligence in Canada are brimmed with applications every year.
In this article, we are aiming to give you an insight into the top colleges for artificial intelligence in Canada. Now, the first question that might arise is, "Is artificial intelligence really worth it?". Well, there are plenty of reasons to go for an artificial intelligence course.
Why Artificial Intelligence?
All the big things around us are a combination of artificial intelligence, machine learning, and deep learning. If you are working on a mediocre skill, there is a chance that AI will replace you in the working sector. Therefore, it is wise to go for a skill that is going to rule the tech world for centuries. As of now, it is hard to imagine a technical revolution that will take over AI. Here are 5 things that make AI so overpowered:
AI is the Future
AI is set to dominate the technical world. Especially while choosing a career in a rapidly evolving industry, you should consider the future of your specialization. Eventually, every sector is going to start working on AI for better efficiency and accuracy. AI is going to generate millions of job opportunities in all major sectors. If you want to be a part of this transformation, you should consider picking AI as your future.
AI is Everywhere
AI is not even at its peak and yet it is everywhere around us. Not only physical gadgets but also customized websites and applications are using AI to enhance the user experience. Every major business is moving towards the internet to provide full-time accessibility to its consumers. However, providing services round the clock demands dynamic customer support. Even if you are running profitably, there are a lot of concerns with providing consistent support. AI solved the problem with chatbots. It might endanger the support jobs in the company but it will make the system more flexible and robust. AI is taking over these mundane tasks and making its way into our everyday lives.
AI is Versatile
The word Artificial intelligence draws our minds to computer-related industries. However, there is no cap on the applications of AI in the real world. Even today, AI plays a major role in banking, healthcare, security, retail, etc. This versatile nature of AI makes it useful in every possible sector. As long as a service exists on the digital plane, we can make use of AI to enhance its structure.
AI can Process Data
Humans are traversing through quintillion bytes of data packets every day. Even as we speak, corporate databases are piling up user data. Some companies are using this data to improve their business structure and impact the market. However, there are companies with limited resources who are incapable of processing that data efficiently. One of the biggest advantages of AI is its capability of processing data with minimum or zero human assistance. We are constantly hearing about the rising industry of big data, data processing, and cloud computing. Big data and AI goes hand in hand. If you are equipped with the right tools, you can make your way into the data industry with ease.
Bright Career
All the above-mentioned points make AI a potential career option. It is growing rapidly, is applicable in multiple sectors, and it is a game changer in the corporate world. AI is not a market trend. It is a leading tech that is revolutionizing the way we operate. Therefore, you will never have a hard time getting a job as an AI graduate. On top of that, you will fall under the highest-paying tech jobs.
So, if AI is such a hot topic, and the world knows about it. Then, it is safe to assume that most universities are offering courses in AI. Why should we go all the way to Canada when it is available near us?
Well, Canada is one of the leading countries in terms of education. It will add more credibility and value to your degree. It will also expand your outreach and bring you one step closer to your dream company. No matter how you look at it, choosing a Canadian university adds immense value to your resume.
Top 7 colleges for Artificial Intelligence in Canada
Here is the list of top 7 colleges for artificial intelligence in Canada
#1: University of Toronto
Our first choice for an artificial intelligence course is the University of Toronto. Established in 1827, the University of Toronto is the top-ranked university in Canada. Luckily, it offers artificial intelligence courses. Therefore, it is a no-brainer for any international student.
It is a public research university that is notable for its contribution to bioscience discoveries like insulin and its research on stem cells. It is located in Toronto, Ontario. Therefore, you should expect a high standard of living in the area.
The University of Toronto manages its large number of students using its high-capacity campus. There is one main campus: St George and two satellite campuses: Scarborough and Mississauga. Collectively, they offer 700+ undergraduate and 200+ graduate courses.
It is a globally acknowledged education institution and also a proud member of the Association of American Universities. As an international student, you can benefit from many scholarships and student funds. After all, the University of Toronto receives the highest annual science research funding and endowment.
#2: University of Alberta
Located in one of the strongest local economies in Canada, the University of Alberta is our second recommendation. It is the fifth largest university in Canada with 5 separate campus locations holding a total of 41,000 students. It is one of the biggest driving factors of the economy of Alberta.
QS world ranking 2022 gave the 126th spot to the University of Alberta making it a highly desired Canadian university. With its broad catalog of 200+ undergraduate courses, 500+ graduate courses, 250 specializations, and 300 research areas, it has something in store for everyone.
#3: University of Waterloo
The University of Waterloo is another best option for pursuing artificial intelligence in Canada. It was established in 1959. The main reason behind the establishment of the University of Waterloo was to incorporate an educational institution for training engineers and technicians. Therefore, its education is slightly inclined towards technical courses.
The University of Waterloo has the main campus of 998 acres along with three satellite campuses and four affiliated university colleges holding 41,000+ students from over 150 countries. It has a reputation for its computer science courses. Therefore, pursuing artificial intelligence at the University of Waterloo is a great opportunity.
#4: McGill University
Established in 1821, McGill university is a highly-ranked Canadian university holding #27 in the QS world ranking and #44 in the Times Higher Education world ranking. Even after 200 years of quality education, it is still going strong.
McGill University has two campuses holding around 40,000 students. Out of these, 30% of the student population consists of international students. The university offers the best medical-doctoral courses in Canada. Maclean's University rankings are placing McGill University at the #1 spot in Canada for its medical-doctoral courses.
It is the second member of the Association of American Universities along with the University of Toronto. It is also the only Canadian member of the Global University Leaders Forum (GULF).
Our next top choice for artificial intelligence in Canada is Simon Frazer university. It is a public research university with three beautiful campuses in Greater Vancouver. 420 acres Burnaby campus is the main campus of Simon Frazer University. The other two campuses: Vancouver and Surrey were established later in 1989 and 2002 respectively.
Collectively, Simon Frazer university holds 30,000+ students on its three campuses. You will learn a lot about artificial intelligence in its interactive campus which is equipped with advanced research facilities.
#6: York University
York University is the fourth largest university in Canada located in Toronto. It is not conveniently located in the same city as the University of Toronto but its first campus was leased from U of T in 1961. Today, York university holds 55,000+ students on its huge campus. It offers 17 degrees in over 120 undergraduate programs. We recommend this university for its experiential education facilities.
#7: Queen's University, Kingston
Our last choice for artificial intelligence courses in Canada is Queen's university. It was established in 1841 by the royal charter of Queen Victoria. This university is known for its quality education and residential facilities as 90% of first years stay on campus.
Queen's holds 32,000+ students, out of which 25% is the international student population representing 125 countries. In Queen's, you have 125-degree courses to choose from.
Related Article:- Study Abroad Admission Guidance with University Bureau
Conclusion
With this, we conclude our list of the top 7 universities for artificial intelligence in Canada. AI is a popular course among students and the number of seats in the top universities is limited. Therefore, you should plan your admission process ahead of time to get into the college of your choice. While pursuing your degree in Canada, you will learn academically as well as psychologically. It will help you grow as a person and face the world with a positive mindset.
What's Your Reaction?