Why choose to study in the USA?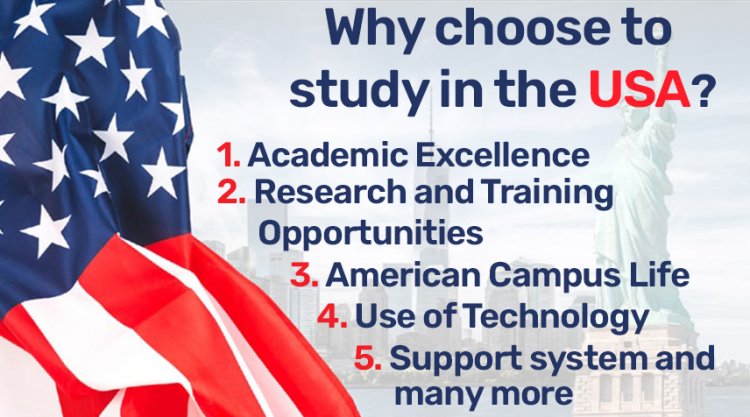 The USA is the number #1 choice for foreign education. The highest number of international students who are currently studying in the USA is proof of that.
Countries are upgrading their education policies to get the attention of international students. It is safe to say that there is a spike in the number of international students in other countries. However, they are nowhere close to the USA.
So, what makes the USA the first choice of any international student?
The answer lies in the benefits that the USA brings to the table for international students: world-class education, flexible curriculum, cultural diversity, engaging campus life, research and training opportunities, abundant career options, and so on.
In this article, we will outline the factors that make and sustain the USA at the top of world education.
#1: Academic Excellence:
The USA dominates the world rankings for best educational institutions. Their high academic standards play a major role in this feat. American universities are well funded, therefore, giving them the liberty to maintain a flexible curriculum. The consistently evolving education system is giving no room to its competitors. As of now, they hold an impeccable academic structure.
American universities have something in store for everyone. They have a wide range of courses covering all the sectors. No matter what the course, a USA degree is recognized all around the world. Your peers will have a hard time matching your educational value.
In the USA students go through rigorous conditioning to prepare them for the world.
#2: Research and Training Opportunities:
Technology and research are one of the biggest strengths of the USA. As a foreign student, you can also be a part of such research and training.
These research projects will benefit you financially as well as academically. Students get paid for their contribution to any research project. You can be a teaching assistant, developer, researcher, etc.
If you are good at your research, by the time you will complete college, you will have a decorated CV. It can be a published research, patent application, or startup.
You should never miss such research opportunities as they will enhance your knowledge and polish your skill set. Working on research projects makes you eligible for real-life projects in any company.
#3: American Campus Life:
American campus life opens you to new experiences. You will come across different countries, religions, and ethnicities during your college. The American way of life makes it all the more fun to engage with your classmates, roommates, and college mates.
You should indulge yourself in different activities. It may not look like it, but you will be enhancing your personality by coming across different people in your campus life.
American campuses are equipped with all the facilities to make your journey more interactive. Grab some food, join different clubs, go to student parties, attend picnics, etc, etc. You will never run out of things to do in the USA. It is an endless experience.
#4: Use of Technology:
In terms of technology, American institutions are quickly adapting to the latest trends. They are aware of the fact that the latest technology can improve learning. Therefore, they are constantly upgrading their education technology.
Exposure to the latest technology can introduce you to new methods and skills. As a result, you will have better chances of adapting to a technically equipped workplace.
In our technologically advanced world, virtual learning is a highly effective learning method.
Also Read Courses to Study in Abroad
#5: Support system and many more:
Leaving your home to pursue higher education overseas can be hard for you. It will take time to get accustomed to their way of living.
American institutions provide continual support to international students by conducting workshops, training, induction programs, etc. They go out of their way to help the students with any cultural, academic, or social query.
They will do anything in their authority to make you feel at home.
Conclusion
Having a USA degree in any field gives you an unfair advantage. Companies drool over students from prestigious institutions like Harvard, Stanford, and Yale. Apart from amazing campus life and high-end education, studying in the USA ensures a bright future for its international students.
What's Your Reaction?