Why Study in the UK?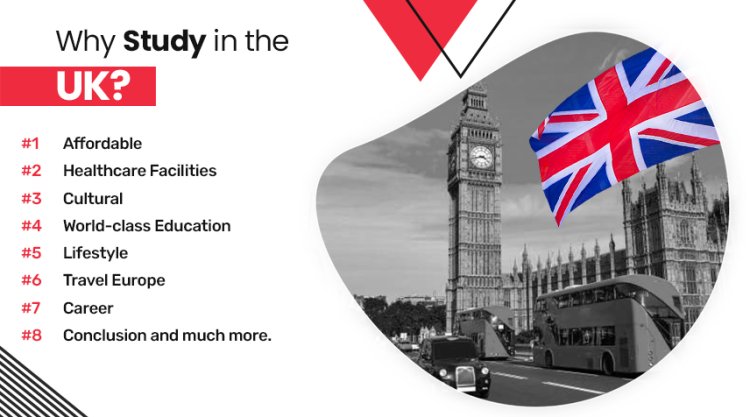 It is a widely-known fact that the UK is one of the top choices of Indian students. Not only Indian students, but students from all around the world also apply to get into their dream colleges in the UK. No wonder the UK holds the second-largest international student population after the USA. Well, if you compare the number of universities in the US and UK (i.e. over 4000 and 150 respectively), you will realize the UK has an edge in terms of quality education.
So, what makes the UK so appealing to international students? From quality education to cultural diversity, everything about the UK makes it an ideal destination for pursuing higher education.
In this article, we will cover all the aspects of the most asked question, "Why study in the UK?". Read along to find your reason for applying to a British Institution.
Benefits of Studying in the UK
If I were, to sum up, the benefits of studying in the UK, I will categorize them into 4 major segments:
Academic
Academic excellence is the main reason why students choose the UK over any other country. You don't have to take my word for it. Educational institutions in the UK shine in the global rankings every year. And the increasing number of applications is proof that those rankings are not just a fancy feat.
Academically, the UK has it all: prestigious institutions, quality education, a wide array of courses, and a flexible curriculum. You name it and a British institution will pop up among the top choices.
1. Globally recognized Universities
4 out of 10 top universities are in the UK itself. Even if they weren't, names like Oxford and Cambridge are hard to miss when it comes to education. These are some British institutions globally known for graduates with exceptional education and skill set. Companies yearn to get their hands on candidates from these prestigious institutions. As soon as you complete your education, You will be bombarded with great career opportunities.
2. World-class Education
When it comes to quality education, there is no better example than the UK. Despite having less than 180 higher education institutions, 90 of them made it to the QS global rankings of 2022. More than half of the British institutions are conquering world education standards. Now that is something hard to beat.
The UK is providing high-quality education for centuries. What we have today is the result of a constantly evolving educational infrastructure. Being associated with a top British institution automatically reflects high-quality education in the corporate world.
3. Wide Range of Courses
UK doesn't have an insane amount of educational institutions like the USA but there is hardly any course that you wouldn't find there. It can be a diploma, bachelor's, or master's, you will always find a British institution offering quality education in that particular course.
Its wide range of courses is one of the main reasons for its large student population. International students come in search of quality education from all parts of the world and their search ends here in the UK.
4. Flexible Curriculum
For Indian students, a flexible curriculum is a foreign concept. We never had the liberty to choose our subjects. We always stick to the allotted set of subjects. Students in British institutions are not bound by such restrictive learning methods. They can design courses that fulfill their academic expectations.
A flexible curriculum doesn't mean that you can take anything with everything. There are many sets of subjects that wouldn't make any sense. To avoid such intricacies, students are only allowed to be flexible to an extent. As long as you have the subjects that work well together, you would do just fine.
Lifestyle
Foreign education is not just about academic achievements. A highly developed economy like the UK can give you access to a world-class lifestyle. You will experience the luxuries of the western culture that are hard to find in a densely populated country like India.
There are many aspects to a balanced student lifestyle and the UK has everything in check.
1. Infrastructure
Buildings in the UK are an example of prime architectural skills. Not only historic but also modern buildings are a sight to behold. For architecture students, the UK is no less than a gold mine that gives them first-hand access to world-class infrastructure.
Most of the British institutions were established before the mid-nineteenth century. Even today, they have the same historic influence in terms of architecture. Their love for classic architecture is not limited to historic monuments, modern residential facilities also have the same classic vibe to them.
2. Affordable
It is fair to estimate that such a rich lifestyle is going to take a toll on your pockets. However, if you compare it to a metropolitan lifestyle in the USA, it is considerably affordable. In terms of monetary value, living and studying in the UK is not cheap but the high return on investment makes it an affordable education option for international students. UK offers a quality education that is on par with the USA at a reasonable cost.
3. Exceptional English Skills
English is not just a language, it is a standard of education. Every company appreciates a fluent English speaker and there is no way around it. Even if your job doesn't revolve around soft skills, many recruiters measure candidates with their English proficiency.
The UK is the best place to enhance your English skills. Interacting with native speakers will expose you to one of the highest-rated English. Over time, it will help you with your fluency and pronunciation.
4. Healthcare Facilities
All the healthcare facilities in the UK are publicly-funded. Just by paying your annual healthcare surcharge, you are eligible for availing free healthcare facilities in the country. The UK has one of the best healthcare facilities in the world and you can benefit a lot from it.
5. Work While you Learn
The UK allows its international students to work off-campus as well as on-campus part-time jobs to cover their expenses. There is a weekly limit of 20 hours but it is for your benefit. You are there to get a degree, not become an employee of the month at a cafeteria.
Cultural
The UK is a cultural heritage that boasts about its rich history and culture. As an international student, you are also a part of that culture. Therefore, it is wise to open up to their lifestyle and learn what it's like to be in the UK.
1. Second Largest International Student Body
As mentioned above, the UK hosts the second-largest international student population in the world. You will be around students from all over the world. Every student that made it to the world's best educational institution is going to make it big. As a fellow student, you can make an international network that might land you great business opportunities in the coming future.
2. Cultural Diversity
The UK welcomes students from all around the world. As a result, you have cultural diversity on your campus itself. Studying with different nationalities, ethnicity, and religion will give a wider perspective on life. You will learn about acceptance and grow as a person exponentially.
3. Travel Europe
If you are a travel enthusiast, the UK is the best place to be. You can travel to many European countries like Scotland, Wales, Northern Ireland, etc. You can travel mainland Europe on weekends and live the beauty of European culture up close.
Career
Studying in the UK can skyrocket your career. British education will give you worldwide recognition that will give you an unfair advantage over your peers.
1. Post-Study Work Opportunities
Every international student in the UK is eligible for a post-study work visa. It makes it easier to land a job in the UK itself. Many institutions have tie-ups with large corporate firms and vice versa. Companies also keep an eye for any promising candidate that will add value to their company. It is fair to expect work opportunities if you complete your education with flying colors.
2. Endless Career Opportunities
Even if you wish to apply for a job independently in any part of the world, you will get a high-paying job with ease. British institutions have an undeniable reputation around the world. Any company will welcome you with open arms.
Conclusion
Now that you know the reason for choosing the UK over any other country, it is time to focus on your "WHY". As a student, you should evaluate your expectations from your course and your university. It will help you choose the best possible education. Always go for the education that takes you one step closer to your goals.
What's Your Reaction?