MBA in Canada : All you need to know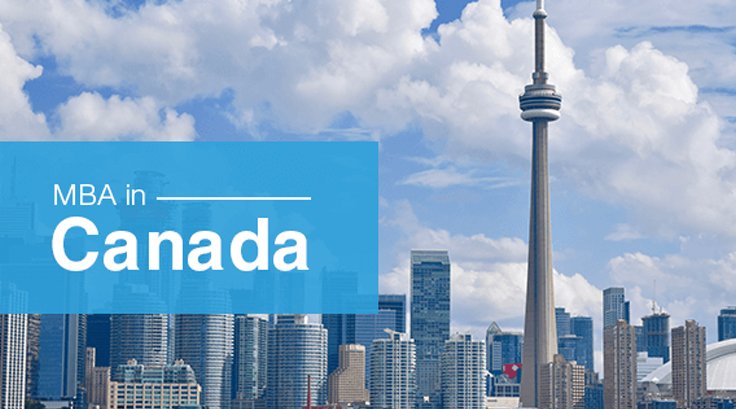 MBA colleges in Canada are ranked among the top educational institutions in the world.
Canadian colleges are flooded with applications every year and an MBA is one of the most desirable courses.
Increasing popularity leads to misleading information. In this article, we will cover all the aspects of pursuing an MBA in Canada.
By the end of this article, you will clearly understand what it takes to be an international student in Canada.
First question….
Is It Worth Studying MBA In Canada?
Canada is one of the most preferred countries for foreign education but when it comes to highly expensive business courses, your doubt is reasonable. You must have heard a lot about MBA in Canada. So, Is it worth the hype?
The answer is YES. There are plenty of reasons that make MBA colleges in Canada worth every penny.
World-class Education
Many MBA colleges in Canada make their way to global rankings every year. Despite being an affordable study destination, their education quality never takes a hit.
Canadian degrees are recognized at a global level. If you wish to apply for a job at a multinational level, your degree will come in handy. Not only that, you will be among the highest-paid employees in your company. A good company values high-quality education.
Job Opportunities
Soon after the completion of your course, you will start receiving job offers from reputed companies. Even in Canada itself, many ongoing projects offer job opportunities in business and accounting at a handsome pay scale.
It is comparatively easier to get a work permit in Canada. Therefore, most of the Indian students who pursue education from MBA colleges in Canada choose to stay and work after completing college.
Quality of Life
Your time in Canada is going to be a lifetime experience. Canadians are known to have a high quality of life. Their infrastructure, facilities, and clean environment add up to their lifestyle.
Even after having such life standards, Canadians are humble people. They welcome students from various ethnicities with open arms. Even the government policies are streamlined for international students.
Requirements for MBA in Canada
Business courses are highly sought after education courses around the world. Every year thousands of students try to get into their dream college but there is a reason why they are "Dream colleges". There are certain requirements for MBA in Canada.
Here is the list of eligibility requirements for an MBA in Canada:
Degree
Since MBA is a master's degree, it can only be pursued by graduated students. Therefore, you should have a bachelor's or its equivalent degree in order to apply for MBA in Canada.
Below-average students will have a hard time getting into a top business college as it requires at least 76% in graduation.
GMAT
If you are planning to go to a top business school, your GMAT score can be the deciding factor. Graduate Management Admission Test is a globally recognized exam reviewed by business institutions.
Having a good GMAT score can give you an edge over other applicants. It is not mandatory for all the business colleges but it can turn the odds in your favor.
IELTS, TOEFL, or PTE
As an Indian student, you should consider taking a language proficiency test. Your IELTS or TOEFL score is going to increase your chances of grabbing an acceptance letter from the top-ranked MBA colleges in Canada.
Work Experience
If you have a gap between your graduation and MBA, you should try to mend it with work experience. The missing years can leave a question mark on your resume. Therefore, it is wise to gain work experience in your particular domain.
It is not obligatory but having real-time work experience can make you a valuable asset to any company.
Apart from eligibility, there are certain documents that you should organize beforehand. From visa application to admission, there are many documents required for MBA in Canada:
Academic Records
Not just in Canada, any business school in the world will start with academic records. You should compile all the academic documents and prepare copies beforehand.
Scorecards for Exams
You should also attach the scorecards of your GMAT or IELTS exam. They will strengthen your application during the admission process.
Letter of Acceptance
It is mandatory to get an acceptance letter from the college before applying for a study permit for Canada. It is the first piece of document you should aim for.
Proof of Funds
Foreign education can be harsh on your pockets and the Canadian government is fully aware of that. Therefore, international students are asked to carry proof of funds. It works as an assurance that you will not be dropped out because of any financial emergency.
Work Experience Proof
If you have a work experience in any field, you should add credible proof of the same.
Visa
Being a foreign student, you will need a travel visa to reach the Canadian Port of Entry. After document verification, you can collect your student permit from there.
Every college has different requirements for MBA in Canada. You should check with their rules and standards before applying.
Top MBA colleges in Canada
Every college differs in fee structure, educational preference, and curriculum. You should try to find the best-suited college for you.
Here is the list of top MBA colleges in Canada:
#1: Ivey business school - University of Western Ontario
Ivey business school is one of the most prestigious business institutions in Canada. It is known for its impeccable track record and over-the-top curriculum.
It is a highly reputed institution with a hefty price tag.
MBA Tuition fees: 1,20,500 CAD
#2: The Rotman school of management - University of Toronto
Under the guidance of Roger Martin, one of the most influential management thinkers in the world, the Rotman school of management is a top-ranked MBA college in Canada.
MBA Tuition fees: 65,000 CAD
#3: Desautels Faculty of Management - McGill University
World recognized McGill University offers dynamic business courses for international students. The three main pillars of their education system are Research, Practice, and Teaching. McGill can give you an internationally acclaimed degree in business administration.
MBA Tuition fees: 62,200 CAD
#4: Sauder School of Business - University of British Columbia
Sauder School of business is an academic-based business school that focuses on appropriate teaching methods. A lot of business professionals from Sauder are making a name for themselves at a global level.
MBA Tuition fees: 67,550 CAD
#5; Alberta School of Business - University of Alberta
Alberta business school is a publicly funded institution with a knack for research. It focuses on creating a high-level learning experience for its students. It is a cost-efficient business school that believes in the power of teamwork.
MBA Tuition fees: 16,520 CAD
Cost of MBA in Canada
MBA is a high investment high-value course. It is one of the most expensive courses but it will get you into a handsomely paying position. Considering the high-quality education, MBA in Canada is comparatively inexpensive.
The jaw-dropping cost of an MBA in the world's best institutions will make you reconsider your financial stature. Lucky for you, Canadian institutions are affordable and still make it to the list of top business colleges.
The main expenditure for a foreign student is tuition fees and it varies from college to college. MBA in Canada can vary from 20,000 CAD to 65,000 CAD. Your choice of college plays a crucial role in your education cost.
Another major expense is the cost of living. It covers all the living expenses like accommodation, transport, food, books, etc. You can manage the cost of living by introducing slight changes in your lifestyle. The cost of living also depends on the city you are living in. Therefore, it is wise to plan your annual expenses.
Any student living in Canada should expect an annual living expenditure of 15,000 CAD.
Benefits of going to a Canadian university for an MBA 300
Pursuing MBA from Canada offers a lot of benefits to international students:
Quality Education
Canada focuses on high-quality education from schooling itself. As a student moves into college, they will come across a more refined education system. The up-to-date curriculum and efficient teaching methods will give you an insight into business and administration.
Value for Money
When you compare the cost of an MBA in Canada with the US or the UK, you will realize that Canada is offering education on par with world-leading institutions at a much more affordable price. In Canada, you can save money without losing any educational value.
Friendly Visa Terms
There are many countries with strict policies for international students. However, the Canadian government welcomes international students to study in Canada.
Conclusion
Many reputed MBA colleges in Canada specialize in different fields. Choose your career and find the best-suited college to reach there. Pursuing MBA in Canada will expose you to various opportunities that will shape your future.
What's Your Reaction?