Top 5 Countries to Study Abroad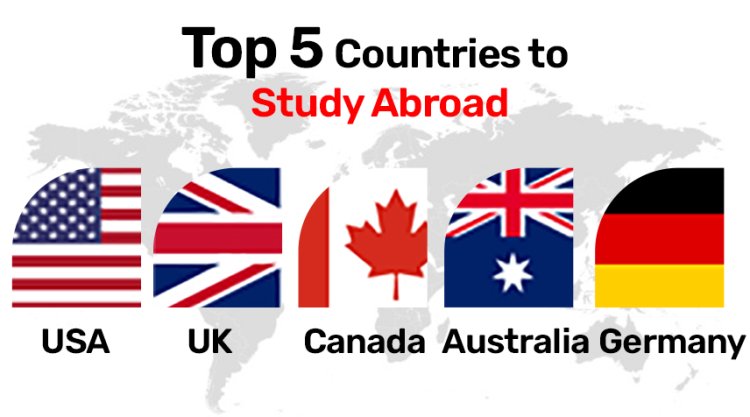 A student's decision to shift his future professional path by studying abroad is a significant one. You will get access to a wealth of advantages in 2023 if you choose to study abroad, including the chance to interact with people from all over the world and experience varied cultures. Indian students have become much more prevalent at overseas colleges as students' desire to earn a degree abroad grows.
You must consider a variety of crucial variables, such as tuition costs, employability rates, and cost of living, before deciding which of these nations to study abroad. The Top Countries to Study Abroad in 2023 are highlighted in the list below for foreign students seeking an excellent education and an exciting experience. Let's investigate it!
Study Abroad Eligibility Requirements For 2023
Academic Transcripts from Previous Education
Results from the English Proficiency Tests (IELTS, TOEFL, PTE)
Letters of recommendation from principals or employers
CV or resume
Evidence of funds
Statement of Arguments
Medical Insurance
A photocopy of a valid passport
University Bureau's Role in Study Abroad
Applying for education abroad entails a number of steps, such as submitting the appropriate documents, creating a SOP, applying for a study visa, and more. Any error at this stage could result in the application being rejected.
Therefore, it is usually advised to seek out University Bureau's assistance when planning to study abroad. The responsibility of University Bureau is to make arrangements for a smooth application or paperwork processing. University Bureau's job is to help students determine their strengths so they may choose the ideal institute for their profile, needs, and preferences.
Here is a list of the best countries in 2023 for studying abroad:
USA
One of the top study abroad destinations for Indian students is the USA. It is one of the world's most multicultural nations. THE & QS Rankings consistently place US universities first.
With almost 4,000 colleges and universities spread out across the nation, the USA has the most universities rated among the top 100 higher education institutions in the world. The largest global education network is found in the United States.
Top 10 Benefits of Studying in USA
Universities that are ranked and renowned internationally
Ample employment and opportunity opportunities
There are many different universities and degrees to choose from.
Rich in diversity environment
Variety of courses and programmes
Positive interactions between instructors and students
The USA is a pioneer in many technological fields.
There is a huge potential for research
Flexibility in programme design
Long-term employment prospects
Cost of Studying in USA
A public or state university's tuition is significantly less expensive than a private university. The price of tuition will vary depending on the degree programme and college or university you choose. To pay for college, you'll need from $10,000 to $55,000 a year.
A bachelor's degree at the undergraduate level costs about between $20,000 and $40,000. Graduate programmes, on the other hand, often cost between $20,000 and $45,000 year. Professional programmes including law, medicine, dentistry, and certain other degrees are substantially more expensive than an MBA degree.
Universities in USA
1. Bay Atlantic University
2. COE College
3. Community College Of Philadelphia
4. Community College Of Spokane
5. Edgewood College
UK
After the United States, the UK will be the second most popular place to study abroad in 2023. is well-known for its historically rich culture, stunning scenery, and extraordinary natural beauty. The UK will give you a top-notch education and an unforgettable Study Abroad experience.
The UK is praised around the world for its top-notch educational system, multiculturalism, and energetic student cities. International university students will make up 22% of the student body by 2022.
Top 10 Benefits of Studying in UK
Renowned academic institutions
Put in up to 20 hours a week of work
Degrees that are respected worldwide
Financial rewards in the form of bursaries, scholarships, and grants
A vibrant fusion of several cultures
Course duration that is shorter
Improve your English language proficiency
Free access to NHS medical treatment
Opportunities for employment after studies
Home to fantastic student cities from Glasgow to London
Cost of Studying in UK
Studying in the UK generally costs less than studying in the USA. The cost of UK courses varies depending on the programme and location of study. For instance, humanities and social science degrees are substantially less expensive than management and medical programmes.
The approximate cost of international undergraduate tuition is between £11,500 and £38,000. The approximate cost of international postgraduate education is between £9,000 and £30,000. It is anticipated that attending school in the UK will cost at least £22,200 per year, approximately.
Universities in UK
1. Abertay University
2. Solent University
3. University Of West England

Canada
Canada, which is home to almost 500,000 international students, provides an internationally acclaimed, top-notch education at a reasonable cost. Canada stands out as one of the most popular study abroad locations in 2023 because of its high standard of living, post-study career chances, and immigration possibilities.
The top QS Universities in the world include about 26 Canadian institutions. The country is one of the top choices for overseas students seeking higher education because of the excellent quality instruction provided at reasonable tuition costs. International students can stay in Canada and work there for up to three years after finishing their studies thanks to the Post-Graduate Work Permit (PGWP).
Benefits of Studying in Canada
Enjoy a good standard of living in Canada. There are excellent chances for education and research.
Feel at home in a free, secure, and multicultural community.
There are numerous scholarship opportunities for students in financial need.
Excellent return on your investment in Canadian credentials
Discover the depth of Canadian culture and social life.
Countless prospects for research
A welcoming, calm, and multicultural atmosphere
Opportunities for part-time employment up to 20 hours a week
Active campus life with several events and festivals

Cost of Studying in Canada
Canada offers more affordable higher education than other Study Abroad locations. A postgraduate master's degree costs about between $17,000 and $25,000, whereas undergraduate degrees range in price from $13,000 to $20,000 annually. Housing, food, and other living expenses run about $15,000 CAD per year in Canada.
Less expensive than engineering and medical are courses in the humanities, education, and the arts. Additionally, postgraduate degrees have slightly greater tuition costs than undergraduate ones. One of the most expensive programmes is the MBA.
Universities in Canada
Crandall University
University Of Canada West
Nipissing University
Acadia University
Trinity Western University
Australia
Australia can be your next ideal study abroad destination if you're seeking for world-class universities, plenty of pleasant sunlight, and a relaxed lifestyle. Over the past few years, 200,000 or so foreigners have enrolled in Australian universities to pursue higher education.
In terms of the enrollment of international students, Australia comes in third place, after only the United States and the United Kingdom. Seven Australian cities are among the top 100 in the world for student friendliness. Your prospects of finding job anywhere in the world are significantly increased by an Australian degree from a reputable university, which is recognised all over the world.
Benefits of Studying in Australia
A budget-friendly location for international students
World-class academic credentials
Thousands of options for courses to pick from
There are numerous choices for study abroad scholarships
Possibility of employment with a student visa
No problem with language barriers
Top University reputations and rankings
The best cities for students include Sydney and Melbourne
Cost of Studying in Australia
Australia is among the top countries to study abroad in 2023 for cost-effective tuition. The average annual cost of bachelor's degree tuition for international students in Australia is AUD $20,000 and can reach AUD $44,000. Tuition for master's degrees ranges from AUD $27,000 to AUD $75,000 annually.
Universities in Australia
1. Elite College
2. Western Sydney Technology College
3. High Skilled Education & Training Australia
Ireland
Ireland is the ideal study abroad location in 2023 for international students due to its gorgeous natural surroundings, breathtaking coastal and mountain hikes, and ancient culture and architecture. International students will enjoy the abundance of museums and art galleries, gourmet cuisine, coffee culture.
Ireland, which is also referred to as the Silicon Valley of Europe, is home to 14 technical institutes, seven universities, and about seven schools of education. In reality, five Irish institutions are among the top 500 universities in the world. It makes sense that it is one of the top destinations for study abroad in 2023.
Top 10 Benefits of Studying in Ireland
Internationally renowned educational system
A selection of more than 5000 programmes
Top Career Possibilities
Opportunity for Post-Study Job Visa
The most cost-effective alternative for students in Europe
Excellent Quality of Life
The locals are welcoming.
Safest country for studying
Community Health Services
The headquarters of tech behemoths including Google, Facebook, and Amazon
Cost of Studying in Ireland
One of the most economical study abroad destinations in Europe is Ireland. Some of Ireland's most reasonably priced institutions have business schools include University College Cork, University of Limerick, and Dublin. Ireland's undergraduate tuition ranges from 10,000 to 30,000 euros a year. Costs for postgraduate and master's programmes range from approximately 9,000 to 35,000 euros per year.
Universities in Ireland
1. Trinity College, Dublin
2. University College, Dublin
3. National University of Ireland, Galway
4. University College Cork
5. Dublin City University

Conclusion!
The following nations have been named as the top 5 places to study abroad after examining a number of variables, including educational quality, cost of living, cultural experience, and post-graduation career opportunities:
United States
United Kingdom
Canada
Australia
Ireland
These nations are well known for offering top-notch instruction, a wide variety of academic options, and chances for cultural immersion. Additionally, they provide outstanding support networks for international students, which greatly eases the adjustment to a new nation and academic setting.
Although there are many other nations that provide excellent chances for study abroad, these five stand out as the top choices for students looking for a top-notch educational experience. Where a student decides to study abroad will ultimately rely on their personal objectives.
FAQs
1. How do I apply? Which are the best universities in the USA?
Harvard University, Massachusetts Institute of Technology (MIT), Stanford University, California Institute of Technology (Caltech), and Princeton University are just a few of the best universities in the USA. Applicants must submit their standardised test results, academic transcripts, letters of recommendation, and a personal statement as part of the application procedure, which varies by university.
2. What are the costs of attending school in the UK, and are there any scholarships offered to students from outside the country?
Depending on the university and the course, studying in the UK might cost anywhere from £10,000 and £35,000 per year for overseas students. For international students, there are numerous scholarships available, such as the Chevening Scholarship, which pays for both tuition and living costs.
What choices are there for language training and what are the language requirements for studying in Canada?
Depending on the university and programme, different languages may be needed to study in Canada. Some institutions need evidence of English language proficiency, such as a specific TOEFL or IELTS score. For overseas students who need to sharpen their English, several universities now provide language training courses.
3. What are Australia's top institutions, and how can I apply?
The University of Melbourne, the University of Sydney, the University of Queensland, and the Australian National University are a few of Australia's finest universities. Depending on the university, the application procedure may differ, but it usually include submitting a personal statement, academic credentials, and letters of recommendation.
4. What choices are there for language training and what are the language requirements for studying in the United States?
The university and programme determine the language requirements for studying in the United States. Some institutions need evidence of English language proficiency, such as a specific TOEFL or IELTS score. For overseas students who need to sharpen their English, several universities now provide language training courses.
5.What are the top academic specialties in the UK?
The UK is renowned for its robust educational offerings in subjects including business, law, engineering, and the humanities and arts. There are, however, a lot of excellent programmes in disciplines including science, medicine, and social sciences.
7. What are the employment chances for international graduates in Canada?
The employment outlook for international students in Canada is typically favourable due to the country's robust economy and significant demand for qualified professionals. The job market, however, can differ based on the region and the area of study.
8.Which academic disciplines are most popular in Australia?
Australia is renowned for having robust programmes in the natural sciences, engineering, and computer sciences. There are, however, a lot of excellent programmes in disciplines including business, medical, and social sciences.
What's Your Reaction?