Top 5 Countries to Study Abroad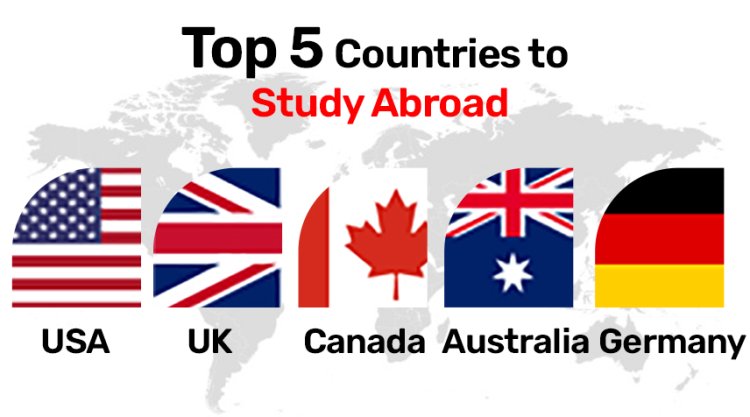 Indian corporates gravitate towards international students. If you have an international degree, you are more likely to get a job at your dream firm. This change in corporate outlook gave rise to an increasing number of Indian students going abroad for education.
Studying abroad was a sign of stature rather than academic achievement. Only the privileged ones were able to go overseas for education. Today, we have students applying for a study permit from all classes. Foreign education is much cheaper, secure, and interactive now. It is not just a big name, their education system adds value to your resume as well as your skillset.
Every country is revising its education policies to attract more international students . Today, every country looks appealing and it makes it hard to choose the best-suited country for your education.
It is not hard to choose if you know what you are looking for.
Things to Consider
Here are some of the key factors you should consider before choosing your ideal country for education. These points will simplify your search and help you make a rational decision.
Course
You should always prioritize your course while choosing any country for education. It directly impacts all the major factors like the cost, education quality, career opportunities, etc.
Every international degree holds value on a global level but a degree from a specialized institution will be the icing on the cake. You should always start your search from the colleges that specialize in your particular course. You will get the best value for your investment.
Cost
You should always consider your cost of education before applying for any college. Studying abroad is more about the cost of living rather than tuition fees.
If are planning to go to any over-the-top city for pursuing education, you should have really deep pockets. Otherwise, you will run out of funds pretty soon. And believe me, dropping out is much worse than not starting at all.
Opportunities
Every country, city, or college is known for a specific course. If your college provides world-class education in architecture, then you are more likely to get offers from top architecture firms.
Corporates are smart and they know where to look for the best candidates . Talented students go for high education quality, these institutions polish their skills even further, and top companies flock around those institutions to get their hands on those well-trained candidates.
Language and Culture
For Indian students, it is a wise decision to go to an English-speaking country. A language barrier can limit your influence and learning experience to a huge extent.
Some students are preparing for their dream college from an early stage. They are fluent and capable of managing with native speakers. However, if you are planning to learn a language from scratch, just go to an English-speaking country.
Now that you know how to find the best-suited country, here is a list of the top 5 countries to study abroad.
#1: United States of America
The USA is the top-ranked country for education for Indian students. Almost half of the top spots are reserved by American universities. Maybe that is the reason for such uneven distribution of foreign students worldwide.
America holds more than 1 million international students. No other country is close to that number. Even the second place holder is yet to touch the 5,00,000 mark. This shows the dominance of the American Education ecosystem.
Having a large number of universities offering a wide range of courses contributes to the fact that the USA is the most popular education destination. You will always find a prestigious university offering a globally recognized degree in your dream course.
Benefits
Being an English-speaking country, the USA is easy to blend in.
The USA offers a wide range of courses covering all streams.
Most American universities are ranked among rhe top educational institutions, therefore, you are going to get an internationally recognized degree.
The USA is the home to most of the world's biggest corporations including Fortune 500 companies. If you have a great skill set, you are deemed to get a job offer in the USA itself.
The USA offers many merit-based as well as requirement-based scholarship plans for Indian students.
The USA is a cluster of cultural diversity. People from all around the world are pursuing their education in the US.
Scope
Engineering and Business studies are one of the most sought-after courses in the USA. Many programs offer training to sharpen your skillset and obtain real-life working experience. If you manage to get a degree from a renowned American Institution, you will have a high acceptance rate in any tech company globally.
Course Specialization
The USA has a wide academic network which makes it impossible to miss any course specialization. However, some courses are more popular than others. The USA is best for obtaining a specialization in:
Engineering
Information Technology
Business Management
Life Sciences
#2: UK
After the USA, the second most popular country for pursuing education is the UK . Not only in preference, but the UK is also second highest in terms of global ranking, international students, as well as top universities.
The UK houses prestigious universities like the University of Oxford, the University of Cambridge, and Imperial College London. Even the names like Oxford and Cambridge have a nice ring to them.
Education in the UK is inclined towards utility-based learning rather than a textbook approach. On top of that, there are regular inspections for ensuring the educational standards throughout the country.
Benefits
Practical learning will help you acquire critical thinking, which in turn improves analytical skills.
Quality Assurance Agency ensures that you have access to the best learning, research, and curriculum.
Courses in the UK have a significantly shorter duration. Short-duration courses will save your time as well as living expenses.
The UK is interconnected to Europe. You can explore major European countries during your study period.
No language barrier for English speakers.
Scope
The UK offers many high-paying jobs in many sectors like healthcare, education, technology, etc. However, the highest number of job openings in the UK are tech-based. Engineers, developers, and data scientists are in high demand in the UK. Followed by management jobs like HR, Marketing, recruitment, etc.
Course Specialization
The most popular courses for Indian students in the UK are:
Business studies
Accounting and Finance
Art and Design
Computer Science
#3: Canada
If you want to live your best life while getting a world-class education, Canada is your go-to place. Canada is known for its quality of life. No matter where you live in Canada, you will have access to a beautiful landscape, clean environment, and world-class infrastructure.
Canada offers one of the most affordable education among English-speaking countries. Indian corporates think highly of a degree from a prestigious Canadian Institution. Safety, lifestyle, and education are the best selling points of Canadian education.
Benefits
Any degree, diploma, or certificate from any Canadian institution is recognized globally.
Low tuition fees make international education more accessible for students from all backgrounds.
The Canadian government offers scholarship programs to make education more affordable.
A high standard of living makes studying in Canada a lifetime experience.
Easy work permit terms make it easier to pursue a career in Canada itself.
A large number of job opportunities for students.
English-speaking country.
Scope
Canada is equipped with world-class medical facilities making it perfect for pursuing a medical career. Even the highest paying jobs in Canada are for doctors, nurses, and dentists. A wide corporate network also offers great job opportunities in Engineering, management, and research.
Course Specialization
Course specialization offered in Canada are:
Health Science
Information Technology
Business Management
Civil Engineering
#4: Australia
Australians are known for their stress-free lifestyle and outgoing nature. If you choose to go to Australia, you will blend there in no time. Maybe that is the reason for the high number of study permit applications for Australia.
In the last few years, there is a rise in the number of students applying for study in Australia. They revised their application process, making it a lot more convenient for students financially. Indian students highly benefit from these revised policies.
Australia is not among the top educators but its education quality is no less than any other country on the list. You will get all the benefits of having an international degree.
Benefits
Australia's study abroad programs make it easily accessible for Indian students.
It houses some world-class research institutions.
You will have a wide array of courses to pursue your desired education.
Plenty of scholarships and financial aid for international students.
Being an Indian, you might detect an accent but you will get used to their English in no time.
Scope
In Australia, you will find jobs in almost all the major sectors like IT, engineering, architecture, medical, etc. Just like any other country, the highest paying jobs are of medical backgrounds like surgeons, physicians, and cardiologists. Another in-demand sector is the IT sector with high-paying white-collar jobs.
Course Specialization
Australia is known for its research institutions, you should pursue education in:
Zoology
Wildlife
Geology
Engineering
You can also go for medical as well as architectural courses.
#5: Germany
Despite being a non-English country, Germany is one of the most desired countries for foreign education. The main reason behind this increasing demand is its free education structure.
Yes, you heard that right. Germany has incorporated a "no tuition fee" structure in all the public universities across the country. Almost all the education is funded by the state, therefore, making it the most affordable study destination.
You should learn german to get there, however, there is no compulsion regarding the course. You can pursue your course in the English language and switch whenever you are confident in your language skills.
Benefits
No tuition fee makes it highly affordable.
Beautiful infrastructure and a deeply designed curriculum make learning fun.
Bologna reform ensures that you get a globally recognized degree.
Courses are taught in English as well.
Scope
In Germany, you can find a job in any major sector if you have the required skill set. You can go for IT, medical, law, or business studies and easily land a job there or in any part of the world.
Course Specialization
German universities offer great courses in:
Technology
Applied Sciences
Art, Film, and Music
Conclusion
The world is full of opportunities, you just need to be at the right place at the right time. Instead of jumping to the first university, you come across on the internet, you should do your research. There is a huge scope even outside the above-mentioned list. We at University Bureau are happy to help you set out on your journey.
What's Your Reaction?