Cost of Master's in the UK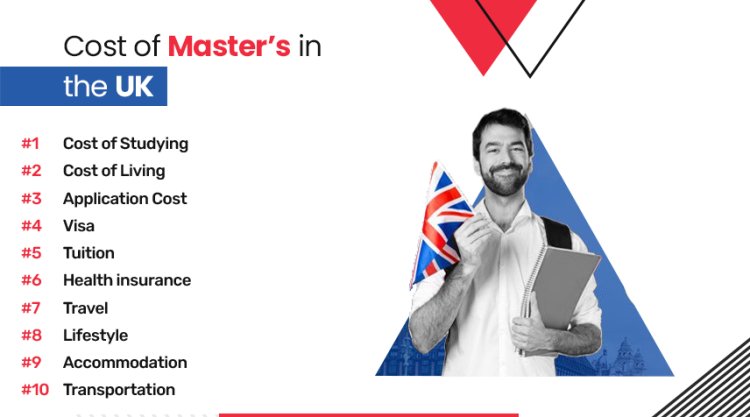 Many Indian students dream of pursuing their Master's in the UK. Being associated with prestigious names like Oxford, Cambridge, and Imperial can make you a highly appealing candidate for any job in the World. However, living and studying in one of the most developed economies in the world is an expensive affair.
Especially if you come from a financially average background, you should consider evaluating the cost of a Master's in the UK beforehand. If you run out of funds in the middle of your education, all the prior investments will be null and void.
In fact, it is not a matter of "should" anymore, as an international student, you are obliged to submit the proof of funds while applying for a student visa. Therefore, it is wise to understand the financial structure of pursuing Masters in the UK.
In this article, we have included all the aspects of expenditure while studying in the UK. It is nearly impossible to pinpoint the amount due to varying tuition and accommodation costs throughout the country. However, you will have a fair idea of the total cost of a master's in the UK.
Expenditure Breakdown
Widely, there are only two major expenses while studying for a master's in the UK:
Cost of Studying
You can further divide this into:
1.Tuition Fees
Master's in the UK is a relatively expensive course. Therefore, it is fair to believe that your tuition fee is going to be the biggest part of the overall expenditure. Unless you choose a lavish lifestyle and end up spending a fortune on accommodation alone.
Your tuition fees can vary from college to specialization. Some courses are significantly more expensive than others, depending on the duration, research, and ROI. Usually, the tuition fees for Masters in the UK range from 10,00,000-35,00,000 INR annually. However, it is wise to confirm your tuition fees from your respective institution.
2. Books and Stationary
As a Master's student, you need to submit a lot of research papers and assignments throughout your education. It can reduce depending on the type of Master's course but it is an unavoidable expense that you need to consider while studying in the UK.
Compared to other expenses, your stationery cost will not cost you more than 4,000 INR per month.
Cost of Living
Another major expenditure while studying Master's in the UK is the living cost. You can further divide it into four major parts:
1. Accommodation
Your accommodation cost is the best way to manage your overall cost for a master's in the UK. Unlike, tuition fees, it is a flexible expense that depends on different aspects. When it comes to accommodation, students have many alternatives like hostels, PGs, apartments, and shared apartments. Slightly altering your accommodation can save you thousands of rupees every month.
There is no cap on the accommodation cost but an average Indian student spends around 50,000-70,000 INR per month on accommodation itself.
2. Transportation
Buying and operating your own vehicle is a rare luxury for international students. Therefore, you should take the transportation cost into account. It can be a small ride to your college, shopping, or any other leisure activity. Either way, you need money to move around the country. If you have an active lifestyle, you should consider saving 15,000-20,000 INR monthly for transportation.
3. Food and Housekeeping
Studying Master's in the UK is a taxing feat. Even as a student, you need to manage your meals and housekeeping. Depending on restaurants all the time is unhealthy and expensive. At some point, you will have to arrange your food and housekeeping duties yourself. An average international student spends around 15,000-25,000 INR on food and housekeeping.
4. Others
Now, this is something hard to estimate. Every student needs something to cool their head off. Therefore, you should save some funds for leisure activities like sports, shopping, parties, etc. Spending too much time and money on such activities is foolish but sticking to your books will be a waste of your student life in the UK. You should limit your leisure expenses from 5,000-10,000 INR per month.
Complete Guide from Application to Education
Technically, your cost of education starts from the moment you start the application process and it goes all the way to your degree completion. To make it more comprehensible, we have divided your cost of education into three parts:
Pre-Application Cost
Colleges in the UK have high academic standards. Your previous education isn't enough for them to recognize your potential. Therefore, British universities rely on globally acclaimed tests like GMAT, GRE, IELTS, and TOEFL to measure you up.
If you wish to receive an acceptance letter from a prestigious institution, you need to get a decent score on the tests and these tests are not free of cost. Here is a list of eligible tests and their respective fees:
GMAT: 22,000 INR
GRE: 17,000 INR
IELTS: 15,500 INR
TOEFL: 14,200 INR
You will need your test scores before applying for a Master's in the UK. Therefore, plan your exam dates in accordance with the registration deadline.
Application Cost
After arranging all the required documents, you should start applying to the universities of your choice. While sorting the available options, you should emphasize the universities that offer your Master's specialization. You should go for an institution that caters to your academic needs instead of prioritizing a fancy infrastructure.
Every university has different application fees ranging from 7,000-14,000 INR. You should consider applying to multiple universities as a single rejection can delay your plans till the next academic session. Also, having multiple acceptance letters increase your chances of approval. You should not consider saving money during the application phase.
Post-Application Cost
If everything goes well, universities will respond within 4-6 weeks. Once you have 2-3 acceptance letters, that is when the real expenditure starts. Post-application expenditure consists of:
1. Visa
As an Indian student, you need a study permit to study in the UK. To collect your study permit from the UK, you need a visa, which in turn requires documents like a passport, academic records, proof of funds, proof of language proficiency, acceptance letter, etc.
Since you already have your language proficiency test scores, the only major expense is your visa and proof of funds. UK visa costs around 35,000 INR but proof of funds is the tricky one.
Your proof of funds is the bank statement that verifies that you have enough funds to pursue your education in the UK. It covers academic as well as living costs. The amount is huge but it isn't something extra. You have to pay this amount sooner or later. Having the proof of funds is the financial assurance to avoid any last-minute mishap that might lead to deportation.
2. Tuition
Your tuition cost for a Master's in the UK varies from college to college. Here is the fee structure for top British universities:
Oxford: 25-35 Lakhs INR
Cambridge: 22-33 Lakhs INR
Imperial College: 25-35 Lakhs INR
Edinburgh: 18-25 Lakhs INR
London School of Economics: 22 Lakhs INR
King's College: 17-35 Lakhs INR
The above-given information can vary. Therefore, you should confirm your tuition fees before applying.
3. Lifestyle
The lifestyle cost covers accommodation, transportation, food, entertainment, etc. An average Indian student spends around 1,15,000 INR per month on living expenses in the UK.
4. Health insurance
As an international student, it is mandatory to get health insurance in the UK. It costs around 45,000 annually. A student's health insurance costs significantly less than any other private health insurance in the UK. Apart from this healthcare surcharge, all the healthcare facilities in the UK are free of cost.
5. Travel
To collect your study permit, you need to reach the UK for further verification. For that, you need to pay an airfare of 60,000-70,000 INR. Last-minute flight tickets are expensive. Therefore, try to get your tickets beforehand.
Tips to Manage Cost of Master's in the UK
Education in the UK comes at a hefty price tag. Therefore, you should try every possible way to get a rebate on your education cost. Here are some tips to manage your expenses while studying in the UK:
Scholarships: There are many government-offered scholarships than can benefit Indian students. Also, many universities provide scholarships based on academic achievements. Always check the available scholarship plans.

Part-time Jobs: UK government allows international students to take up part-time jobs in order to support their education in the UK. There is a restriction on the number of hours you can contribute to part-time jobs.

Student Card: Every country has lenient policies for students. As a student, you are eligible for availing many discounts on your day-to-day expenses. Always check for a student discount before paying anywhere.
Conclusion
The cost of a Master's in the UK seems highly expensive at a glance but its Return on Investment makes it worth all the time and money. You are not just paying for education, you are paying for all the opportunities and recognition that you will get along with your degree. Don't sweat about the money you are spending today as you are sitting in one of the most prestigious institutions in the world. Make the best of this opportunity.
What's Your Reaction?