Top University in the USA for MS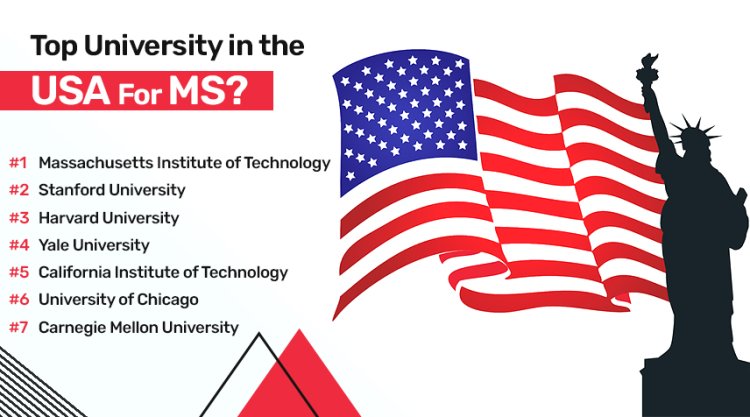 The USA boasts about its world-class educational infrastructure. To back it up, they have more than a million international students pursuing their education in the USA.
So, what makes the USA so appealing to international students?
It could be their well-equipped classroom culture or vibrant campus life. Furthermore, they have the world's leading educational institutions in their capacity. Even the current #1 university Massachusetts Institute of Technology is in the United States.
MS is a highly pursued educational milestone and MS from the USA is something to look for. About 70% of universities in the USA offer MS courses for international students.
Every university in the USA is recognized globally but that doesn't mean that you should pick one randomly. That's not how it works. There is a whole process behind choosing the best university for you. We are here to ease that process.
In this article, we will traverse the best universities in the USA for MS. But before that, you should understand….
...Why study MS in the USA?
Here are some of the reasons that make MS from the USA worth it:
World's Best Universities
It is common knowledge that the world's best universities are in the USA but most people do not understand the dominance of American education. Almost half of the world's best universities are in the USA.
High-Quality Education
MS is all about developing a subject matter expertise. American universities have a well-rounded education system. The best faculties and a practical learning approach make the USA a perfect destination for MS.
Advance Learning Methods
International students in the USA have access to best-in-class libraries, laboratories, and research equipments. While pursuing MS you will need all of them regularly.
Academic flexibility
The USA covers one of the biggest networks of world-class universities. Every college covers almost all the major courses. No matter how specific, you will always find a university in the USA offering the specialization you are looking for.
Research opportunities
Outstanding infrastructure and availability of resources give students a chance to incite in-depth research. International students sharpen their skill set and gain valuable experience by working alongside working professionals.
Work Opportunities
America is a huge working framework that is functioning by talented minds in all sectors. All the tech, management, law, and pharmaceutical companies welcome new talent with open arms. As soon as you complete your Master's in the USA, you will have limitless work opportunities to boost your career.
Vibrant Campus Life
Americans are known for their carefree lifestyle. When carefree people come together with a different culture from around the world, you will get a vibrant campus life. Campus life in the USA is a great experience.
Cultural Diversity
People from different ethnicity, culture, and religion are completing their education in the USA. Sharing a campus with these students can help you create a global network. Not just average acquaintances, but professional bonds with students who are willing to cross borders to have a successful career.
Top universities in the USA for MS
#1: Massachusetts Institute of Technology
If you are a student with exceptional talent, you might have a chance of getting into the world's best university. Massachusetts Institute of Technology, MIT is being ranked as the #1 university in the world for 10 straight years.
With an acceptance rate of less than 7%, most of the students couldn't even make it to screening.
It is a government-funded university that offers MS in more than 50 subjects including architecture, aeronautics, robotics, and many more.
#2: Stanford University
Stanford is one of the biggest universities in the USA. It is stretched over 8,180 acres. It is highly regarded on every ranking parameter, making it 2nd best choice for MS in the USA. The best thing about Stanford is its interdisciplinary learning approach.
There are over 40 academic departments at Stanford University. International students can apply for MS in physics, statistics, medicine, engineering, and many other integrated courses.
#3: Harvard University
Harvard university is one of the oldest universities in the country. Its high-quality education and beautiful infrastructure attract students from all around the world. Harvard is one of the Ivy League colleges that offers MS in a wide range of subjects.
There are slim chances of getting into Harvard but once you get there, it will create immense opportunities for you. You will find all the major specializations at Harvard but some of its distinguished courses are anthropology, archaeology, etc.
#4: Yale University
Yale University is the den of knowledge. It has one of the biggest libraries in any American college holding millions of books. Also, the library of Yale University is the most secure part of the campus.
Yale offers great research opportunities to international students pursuing MS from the college. Working on research alongside experienced faculties gives you a peek into the working sector. Even if you wish to pursue Ph.D. from Yale, there are a lot of research facilities and faculties to guide you in your doctorate.
#5: California Institute of Technology
California Institute of technology or "Caltech" is a globally recognized college for MS. It is a private doctorate-granting university that usually offers seats to students who intend to complete their Ph.D. in the respective courses. However, no rule mandates pursuing a Ph.D. after MS.
As the name suggests, Caltech provides the best education in technical courses like civil engineering, mechanical engineering, physics, etc.
#6: University of Chicago
In the USA, the University of Chicago was the first school to offer MS in Molecular engineering. Today you can pursue MS in Analytics, computer science, financial mathematics, biomedical informatics, threat and response management, etc.
You can also go for a Master's in ethical application courses like computational analysis and public policy, and environmental science and policy.
#7: Carnegie Mellon University
Carnegie Mellon University is a highly ranked educational institution in statistics and operational research. It also offers an MS in automated science which is an exclusive course that covers the development of highly automated systems for science. Research labs at Carnegie Mellon are packed with robotic laboratory equipment for a better hands-on experience.
Every university has something unique to offer. You should go for an institution that complements your graduation subjects and future goals.
Popular MS courses in the USA
Students usually pursue their master's in accordance with their previous education qualifications. However, no rule restricts you from switching streams. At least, as long as it is feasible.
Here is a list of some popular MS courses in the USA:
Computer Science
Every sector is moving towards digitalization. As a result, computer-based companies have had their hands full for the last two decades. Every year we see a rise in career opportunities in computer science.
You can land a job in computer science by pursuing a degree from any part of the world but the top spots are reserved for the best. If you are aiming for a top spot in a tech giant, MS from the USA is your best shot.
Embedded System
Students from Computer science as well as electronics or electrical seek after this course. Embedding a digital interface in a chipset requires precision and there is no better place than the US for learning such a complex skill.
Widely evolving equipment keep this specialization in demand all over the globe. There is no way that you will struggle with career opportunities after completing your degree.
Wireless communication
Wireless communication is another specialization that is very popular among international students. It is an in-depth course that exclusively covers various components of a wireless system.
Wireless communication is a widespread industry. Especially in the USA, where the world's leading wireless communication companies like AT&T and Verizon are established and running.
Business Administration
Engineering and all is fine but everyone is not into technical stuff. Well, you need a business aspect to efficiently use technical elements. MS in business administration is a very popular course in the USA.
The USA dominates world education not only in engineering colleges but also in business schools. More than half of the world's top-ranked business colleges are in the US.
Management Information System
The management Information system is another popular hybrid specialization that consists of business as well as IT curriculum. It prepares the students for professions like Business analysts, system analysts, IT managers, etc.
Game Design and Development
Game design and development is a very popular stream among youngsters. MS in game development requires strong computer science knowledge with a game development core.
The gaming industry is evolving exponentially. If you are really into graphics, you should consider MS in-game development from the US.
Petroleum engineering
Petroleum is an essential resource and large petroleum industries rely on petroleum engineers to extract, refine, and produce oil efficiently.
This specialization gained recognition in past few years. If you have a grasp of concepts of physics, chemistry, geology, mathematics, and fluid technology, you can go for an MS in petroleum engineering.
Life sciences
The USA is known for its high-quality education in life sciences. It covers courses like molecular biology and biotechnology. Technological advancement in bioethics gave rise to the increasing popularity of MS in Life sciences.
Eligibility for MS in the USA for Indian Students
To pursue an MS course in the USA, you should fulfill some primary requirements:
A 3-4 year undergraduate degree. (You don't need a science undergraduate degree but a relevant subject is mandatory)
Your average GPA should be 3.0 or above. In terms of percentage, it should be 65-70% or above.
Any recognized English language proficiency test like IELTS, TOEFL, or PTE with a decent score.
Your GRE score should be 290 or above.
Acceptance letter from two or more American universities.
Statement of purpose.
Conclusion
MS is a course that polishes your skillset even further. You can get years ahead of your peers just by adding a master's degree to your resume. You can add value just by choosing the right university. And when we are talking about an education leader like the USA, every university feels like the right choice. Narrow down your goals, and choose the best platform to get there.
What's Your Reaction?