Masters in Cloud Computing in the UK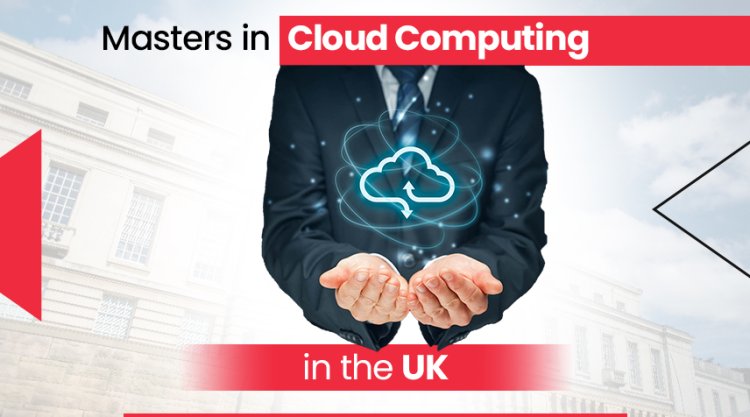 Ever since computers became mobile and abundant, we are dealing with insane amounts of data. Even as we speak, billions of computing devices are processing data. By the end of the day, it will add around 3 quintillion bytes to the existing data.
Even if we start discarding data, there is no end to it. Therefore, we should focus on storing and processing it more efficiently. That's where cloud computing comes into play.
Computer science students from all over the world are going for cloud computing because of its high demand in the corporate world. However, your native institutions couldn't top Masters in Cloud computing in the UK.
A Master's degree from the UK can be the highlight of your resume. The vibrant experience of pursuing an MS in the UK will upgrade your skills and personality drastically. If you are also thinking of pursuing Masters in cloud computing in the UK, then read along and decide for yourself.
Is MS in Cloud Computing Worth it?
Cloud computing is a rapidly growing technology. Computer science graduates who specialize in cloud computing are already landing high-paying jobs. Having an MS in such a dominating industry is going to skyrocket your career.
Here are some benefits of getting an MS in cloud computing that make it all the more worth it:
Future Potential
As mentioned above, cloud computing is a thriving industry. More than 90% of the workspace is already on the cloud. In terms of revenue, it might touch the 600 billion mark by the end of this year. All the stats point towards the future potential of cloud computing. At this point, doing an MS in a high-potential industry will be a masterstroke.
Strengthens your Resume
There is a huge difference between climbing through positions and starting from a senior position. In today's competitive world, a bachelor's degree can get you a job but it takes a master's degree to secure a senior position in a company.
Having a master's degree can strengthen your resume immensely. It really counts when you are competing for the same position. In a job interview, you can dominate a room full of graduates with ease.
Showcase your Skill
The main purpose of having a master's degree is to showcase your mastery of that particular skill. Investing more time and effort in the same specialization determines your commitment to it.
An MS in cloud computing will enhance your cloud computing skills. On top of that, additional research will prepare you for the practical application of your skills on a broader scale.
Higher Salary
This is one of the biggest reasons why students are drifting towards cloud computing. Cloud computing professionals are in high demand in every company. Especially, when you hold a master's degree, a company is more likely to pay handsomely for your services. A master's degree can help you get a higher salary than any computer graduate.
Endless Opportunities
As mentioned above, nearly 90% of the companies are already on the cloud. The rest of them are in the middle of the transformation cycle. Eventually, every company will have the technology to access remotely.
To keep the cloud smooth and efficient, they will need cloud computing professionals. The new method of data processing is going to create endless job opportunities in every sector. It is still early, therefore, you can highly benefit from it.
How to Choose Best Universities for Masters in Cloud Computing in the UK?
Pursuing a master's in cloud computing is going to be the turning point of your career. No amount of assurance is extra when you are at a crucial point in your life.
The UK is a dream country for students and every university seems to offer the best education. In such a case, it is wise to research and find what's best for you.
Here are some tips to choose the best universities for master's in cloud computing in the UK:
Availability
Even if you choose the best university in the world, if it is not offering the course of your choice, it means nothing. When choosing a university, the first thing is availability.
In this case, you should ensure that the university you are planning to approach offers MS in cloud computing.
Eligibility
Every university has its eligibility criteria. Therefore, you should know if you fit their definition of an ideal student. Some universities emphasize GRE scores and some focus on previous academic records.
Eligibility is a non-flexible criterion and there is no way around it. Therefore, you should only focus on universities with better chances of approval.
Ranking
Global rankings can be very helpful when choosing a university. To avoid any biased rankings, you refer to globally acceptable rankings like the QS world ranking.
It is a global ranking system that ranks educational institutions around the world according to its broadly accepted parameters. It takes a balanced approach to make it to the QS world rankings.
Next time you want to choose a university, refer to the latest QS rankings. It will narrow down your search significantly.
Curriculum
Universities in the UK follow a flexible curriculum. Cloud computing courses will cover all the core subjects but the curriculum might differ slightly. Therefore, it is wise to go through the program structure, resources, etc. It will help you pinpoint the best course for you.
Placements
All British universities have a high employment rate. Even if choose to apply for a job independently, their global reputation will help you secure a high-paying job.
Companies have tie-ups with different universities. Many tech giants are constantly in search of skilled candidates. If you have a preference, you can apply to a university where your dream company frequently arranges workshops and placement drives. It can save you from the trouble of applying from outside campus.
Accommodation
It might seem irrelevant academically but it is important to consider your accommodation financially. If you couldn't get an on-campus accommodation facility, it all gets down to the city you are studying in.
If you are studying in cities like Winchester or London, you should deepen your pockets as it is hard to find affordable residential facilities there. You should always consider your financial standing before finalizing a university in the UK.
Top 5 Universities for Masters in Cloud Computing in the UK
Here is the list of 5 best universities in the UK that offer MS in cloud computing:
#1: The University of Leeds
The University of Leeds is one of the best universities for a master's in cloud computing in the UK. It is a 1-year course that usually starts in September.
An MS in Leeds will strengthen your foundation in topics like system programming, algorithms, advanced distributed systems, etc.
#2: Newcastle University
Newcastle is another popular choice for MS in cloud computing. It offers a balanced education on the theoretical as well as the practical application of cloud computing.
In this course, you will cover key topics like data mining, big data analytics, and advanced object-oriented programming.
#3: Nottingham Trent University
Nottingham Trent is a quality education hub for cloud computing students. It offers affordable MS in cloud computing at a cost of around £16,000.
Being an employment-focused university, it offers work experience opportunities to all students. It will enhance your skills and increase your chances of getting a campus placement.
#4: Royal Holloway University of London
In terms of research, the computer science department of Royal Holloway University was ranked 11th in the UK. By pursuing an MS in Data Science and Analytics, you are moving towards a rewarding career in Big data.
#5: Middlesex University
Middlesex is another affordable study destination for international students. In this course, you will go through concepts like network design and implementation, cloud-based networks, modern data centers, distributed storage, etc.
Conclusion
Cloud is the future database of all the data reservoirs in the world. Learning cloud computing will make you an irreplaceable asset in the modern computer industry. Combining the quality education of the UK and growing cloud computing will take you to the heights of a career in the computer industry.
What's Your Reaction?