How to Apply for MS in the UK?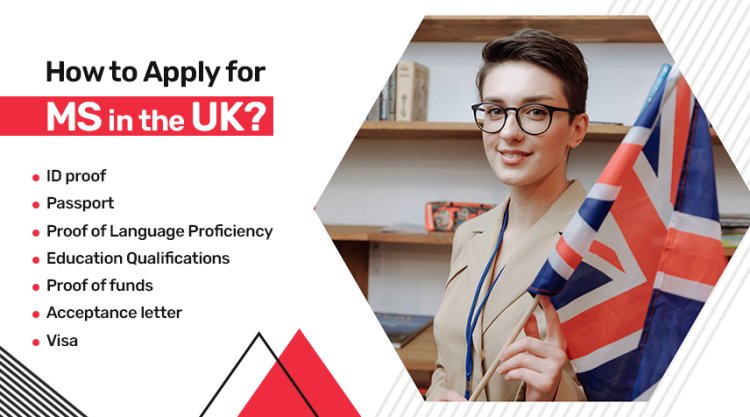 UK is one of the best countries for pursuing MS. It has world-class education and architecturally apt infrastructure which make it a desirable destination for a student.
Every year, there is a rise in the number of applications for MS in the UK but the number of seats remains the same.
Luckily, your acceptance rate highly depends on your application. It can be intimidating but it is considerably simple if you know your stuff.
In this article, we will cover all the requirements and step-by-step application process for MS in the UK.
How to Apply for Masters in the UK
To avoid the last-minute hassle, you should prepare all the required documents beforehand. Here is a list of all the documents you need from applying to attend your college:
ID proof: You need to prove your identity. Therefore, you should prepare all the documents that authenticate your nationality, personal information, etc.
Passport: India doesn't fall under EU/EEA or any other visa exempted countries. You need a Visa which in turn requires a valid passport.
Proof of Language Proficiency: The UK is an English-speaking country. Therefore, you should consider giving a language proficiency test like IELTS, TOEFL, C1 Advance, etc.
Education Qualifications: Before applying for higher education, you should submit your prior academic certificates.
Proof of funds: International students need a proof of fund that covers the amount needed throughout the education period. It covers tuition and living expenses.
Acceptance letter: You can not apply for a study permit without an acceptance letter from the respective university.
Visa: As an international student, you should apply for a Study Visa.
Every university has different requirements. You should always check for any extensive requirements before applying.
The application process for a Master's in the UK is completely online. However, there are a few ways to complete the application. You can register yourself in the following ways:
Direct Registration:
Applying for a college/university directly through their website is a direct application. This is the most common application method for international students. Since most colleges don't accept master's applications via UKPASS, this is the best way for applying for an MS.
Register via UCAS:
UCAS (University and Colleges Admission Service) is a separate application system for students who want to apply for any graduate program in the UK. It works as a one-stop solution for an easy and convenient online application process.
It is further differentiated in Conservatoires (for dance, music, and drama) and Teacher training (for teacher training courses).
Register via UKPASS
UK Postgraduate Application and Statistical Service or UKPASS was an application system established for postgraduate programs in 2007. However, it is still limited to a few universities in the UK. If your university accepts applications through UKPASS, you should go for it.
Now that you know the requirements and methods, here is the step-by-step application process.
Step 1: Check your course and vacancy
First things first, you should look for the availability of your course. Shortlist the universities that offer quality education in your course and fall into your financial bracket. The next thing you should know is the availability of seats at that university. Top-ranked universities run out of seats pretty quickly. That's why it is advised to apply to more than one university.
Step 2: Check your deadline
Prepare a list of all the important deadlines. Missing one can ruin your chances of getting into your dream university.
Deadline for submitting application and attachments.
Deadline for submitting your response.
Deadline for paying deposits.
Induction date.
Step 3: Start your application
You should start your application process as soon as possible. It will give you time to prepare the required documents and a personal statement.
Step 4: Attach all the required documents
Arrange all the documents for your application and submit them before the deadline. It takes time to process the application. Therefore, the earlier, the better.
Step 4: Write your personal statement
A Personal statement that states your reason for the visit. It depicts your mindset and plans. You should write it carefully as it plays a huge role in the acceptance of your application.
Step 5: Submit your application
Complete the application, get it reviewed by an education expert, and submit it.
Step 5: Wait for the response
You can not apply for a student visa unless you receive the acceptance letter from the university. You should check regularly as a delayed response can cost you a huge opportunity.
Step 6: Arrange your funds
As soon as you get the confirmation, you should start accumulating funds for your education period. Proof of funds is a compulsory document in the Visa process.
Some universities might ask you for proof of funds beforehand. Be prepared.
Step 7: Apply for a Visa
The final step of the application is to apply for a student visa. It takes time to get a visa. Always consider the possibility of last-minute revisions. Keep some spare time to avoid trouble.
You will receive your Letter of Acceptance from the UK airport after verification.
Conclusion
Studying in the UK is a beautiful experience for any student. It will not only boost your career but also your cognitive abilities. Foreign education is a high return investment. You get an internationally acknowledged degree, top-notch skill set, and priceless exposure out of your UK journey.
What's Your Reaction?