Preferred Courses in Switzerland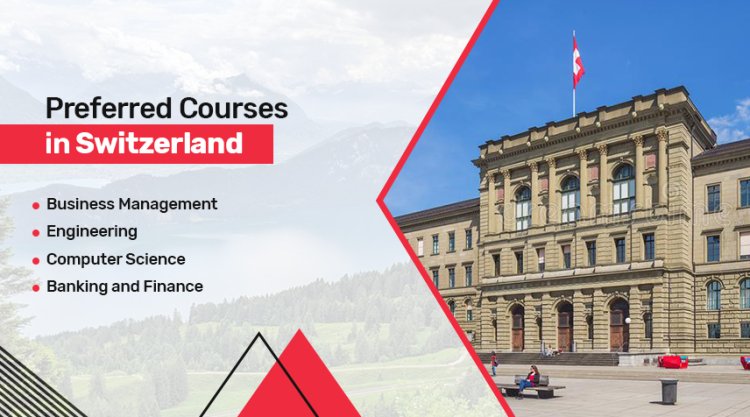 The US and the UK are the top contenders in world education. However, there is a country that snatches one of the top 10 places every year. And that country is Switzerland.
In 2022, ETH, Zurich was ranked #8 in the QS world ranking. It is an eye-opening revelation to those who don't understand the global standing of Switzerland in terms of education.
It is a country with a world-class educational infrastructure. The next thing after education quality is the course preference. In this article, we will cover the preferred courses in Switzerland. So that you will understand what this European country has to offer.
Business Management
Switzerland offers a world-class education in many courses, but when it comes to business administration, it is a globally recognized education provider. Top educational institutions in Switzerland offer a degree in business management.
BBA and MBA are one of the most popular courses in Switzerland. International students can benefit a lot from Switzerland's successful economic structure.
Also, housing 14 Fortune 500 headquarters in the country, makes it a perfect place to learn the insights of business administration. It will work as a valuable case study for you as a business student.
Engineering
Engineering is a very popular course among the youngesters. Not only Switzerland but every country has a huge demand for engineers. It is one of the high-paying technical career options that keeps rising every year. The huge array of engineering streams and increasing technical capacity make it a perfect career option for technology enthusiasts.
Swiss universities offer a wide range of engineering courses like electrical, mechanical, civil, chemical, computer, etc. The presence of a large number of fortune 500 company headquarters in Switzerland makes it an ideal country for pursuing engineering.
Swiss universities boast about their research facilities. They will add up to your learning experience and increase your value as a real-world engineer.
Computer Science
Usually, computer science and information technology fall under the category of engineering. However, there are many certifications, diplomas, or short-term courses that are capable of giving you a full-fledged career.
It is a broad category with a never-ending scope. Computer science courses are so popular that it is hard to find an institution that isn't offering a degree in computers.
A large number of students are pursuing their computer science degrees in Switzerland. It is a huge opportunity to learn computers in the vicinity of technical giants like Google and Microsoft. You will have the best learning experience as well as a fair chance of making it to the dream workspace of many googlers.
Banking and Finance
Switzerland has a successful banking structure. If you want to learn the principles of ideal capital management, Switzerland is your place.
We Indians have a scandalous reference to "Swiss bank accounts". However, it is a perfect example of how a financial framework should operate.
In terms of scope, banking and finance are career-boosting options for commerce students with a knack for money management.
Despite being a small country, Switzerland has a large number of banks and finance corporates. You will easily land a job after completing your education.
Conclusion
This list covers the top preferences but that doesn't limit the potential of Swiss institutions. Switzerland can be a great start for your career. There is hardly any course in Swiss institutions that don't hold a global value. All you have to do is match your expectations with the offered modules and you will get the best value on your investment.
What's Your Reaction?