Why Study in Switzerland?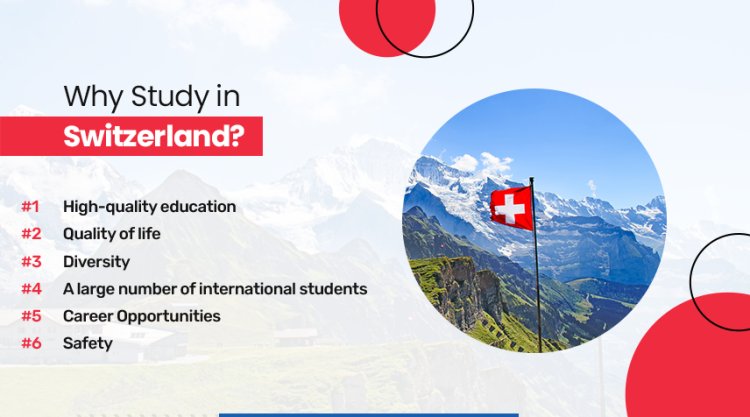 We appreciate Switzerland for Swiss watches and chocolates. People are so immersed in such extravagances that they completely ignore the world-class services Switzerland has to offer. One such amenity is education.
Many international students consider Switzerland as one of the top education destinations in the world. A large number of international students enroll in Swiss universities for higher education.
You might not have any neighbors studying in Switzerland but it doesn't change the fact that swiss universities consist of a fairly high percentage of international students. And there are plenty of reasons for you to consider studying there as well.
Here are some of the biggest reasons for studying in Switzerland:
#1: High-quality education
Despite being overshadowed by the beauty of Switzerland, the Swiss education system is a world-renowned education framework. Practical-driven learning is the main focus of the swiss education system that attracts students from all over the globe.
Switzerland has only a handful of universities but there is a wide range of courses you can choose from. You can go for engineering, law, or the swiss administration courses that take pride in being one of the best in the world.
Swiss institutions have advanced research facilities. If you are planning to pursue a research-based course, Switzerland might be the perfect place for you.
#2: Quality of life
People living in Switzerland are living the best of their life. And as an international student, you are also eligible for availing all the public services.
Switzerland covers all the main indexes for a quality life: healthcare, sanitation, education, technology, freedom, rights, etc. You can enjoy the world-class infrastructure of Switzerland in the middle of nature.
Switzerland has a high life expectancy rate. The credit goes to their active lifestyle and healthy food choices. You might not see many fast food outlets in Switzerland but you will be in the best shape of your life.
#3: Diversity
Switzerland is surrounded by European countries on all sides. Therefore, it is wise to assume that they have a significant impact on the swiss culture.
Switzerland depicts diversity culturally as well as geographically. There are 26 federal states with 4 national languages in Switzerland: German, French, Italian, Romansh, and a little bit of English in every region of the country. Its multilingualism will help you learn and experience a new language first-hand.
Geographically, you can experience Switzerland in your own way. It could be the mighty Alps, the central plateau, or the metropolitan cities like Zurich and Geneva.
#4: A large number of international students
If you have your concerns about your fellow students, rest assured, that you are not the only international student pursuing their education in Switzerland. Around 25% of the student population in Switzerland is comprised of international students.
You will meet many international students during your education period. It will grow your social as well as professional network. And having a global network can be a huge flex.
#5: Career Opportunities
Switzerland is the proud proprietor of the largest number of Fortune 500 companies in the world. There are 14 headquarters in Switzerland, making it a highly concentrated hub for career opportunities.
In addition to that, Switzerland has one of the highest average salaries in the world.
#6: Safety
In terms of safety, Switzerland ranks top 10 in every safety parameter. There are almost zero violent crimes in the country. Even petty crimes like pickpocketing and theft are rarely visible.
You will have a great time exploring the country while knowing that you are in safe hands.
Also Read:- Most Preferred Courses to Study in Abroad
Conclusion
Studying in Switzerland is no less than an adventure and it is not a figure of speech. With great education comes great fatigue and the best way to get over it is an adventure. If you are an adventure seeker, you will come back with a degree and a travel journal full of adventures.
What's Your Reaction?