Everything you need to know about Study Abroad after 12th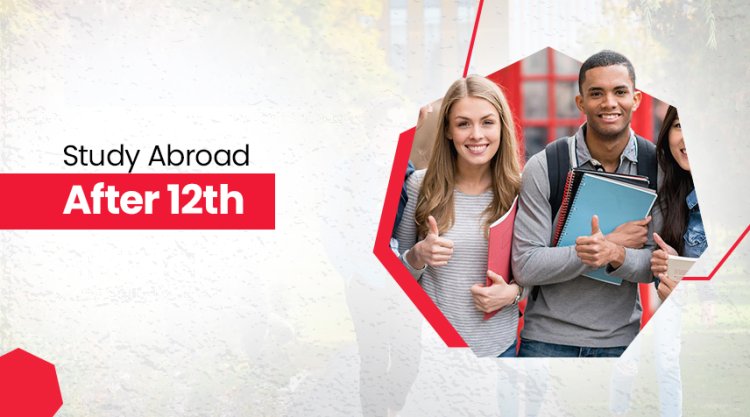 According to Business Standard, 1.8 million Indian students will be studying abroad by 2024. Millions of foreign students worldwide, particularly those who choose to continue their studies abroad beyond 12th grade, are drawn to the outside world by various magnets. Every student's interests will be catered to, from offering a variety of UG study abroad alternatives to streamlining the process of studying abroad after the 12th year.
Consequently, if you're interested in learning "how can I study abroad after the 12th?" Your resource will be this blog. By the end of the blog, we will have covered all the crucial information that will enable you to invest confidently in a top overseas education.
Study abroad after 12th

After completing your 12th grade in your home country, do you plan to continue your studies there? Are you unsure of where to start? Do not be alarmed; you are not alone. Numerous students choose to study abroad to gain different perspectives and experiences. There are more options than simply one or two available to you globally.
You can pursue an undergraduate degree and travel after completing the 12th grade. The advantages of studying abroad for your undergraduate degree include the following:
• Self-reliance skills
• Intercultural communication skills
• Language skills
• Leadership abilities
• Independent management
• A high level of maturity to survive in a new environment
In today's global economy, these skills provide a competitive edge on the job market and could be advantageous to any organization.
How can I study abroad after my 12th-grade year?


Admission to universities abroad is not difficult. You simply need to follow a short process to go where you want to go. After the 12th grade, there are only six steps to studying abroad. You may get detailed information on how to study overseas following your 12th-grade graduation here.


1. Decide what subject to study abroad


There are several options available to you at an international institute. You must, however, pick the program that best suits your skills and interests.
The main options for the discipline at the undergraduate level to study abroad are as follows:
| | |
| --- | --- |
| Field | Courses |
| Natural Sciences | A Bachelor of Science course in Physics, Chemistry, Biology, Maths. |
| Engineering and Technology | A Bachelor's course in Engineering or technology with a specialization in Aeronautical, Computers, Mechanical, Electrical, Chemical, Industrial. |
| Business Administration | Business administration, finance, HR, Sales, Marketing and so on. |
| Arts, Architecture, and Design | Courses such as Architecture, Graphic Designing, Drama, Fine Arts, Music, Theater and so on. |
| Social Sciences & Humanities | Psychology, History, Cultural Studies, Communications, Sociology, International relations etc. |

2. Decide where you'll be studying abroad


Deciding which country you wish to study in after high school is essential. The following factors should be prioritized:
• Climate
• Culture
• Language
• cost of Study
• cost and standard of living
• research opportunities
• Internships opportunities


3. Choose the universities where you want to study abroad

Selecting universities to attend comes next after choosing a field of Study and a location. This decision must be based on the department's academic and research possibilities and the courses and costs offered in your field of Study. Pay attention to the qualifications and the application deadline.


4. Pass the exams required for studying abroad

You should take the required standardized tests to prove that you meet the requirements for admission to the courses you want to enroll in.
5. Fill out university applications to study abroad
It is essential to meet the institution's application date. You must submit appropriate supporting documents and the completed application form.
The following documents are necessary:
• Mark sheets
• Transcripts
• Score reports for the tests
• Financial capability certificate
• Statement of Purpose
• Letter of Recommendation
• Application Essays
If your qualifications are sufficient for admission to foreign universities after the 12th grade, carefully submit all required documents to ensure a positive outcome.
6. Obtain the necessary student visa
The next action is to submit a student visa application after your acceptance is confirmed. You must have a student visa to study abroad in a new country. Online, at a nearby embassy, or through a consultant are all options for applying. Fill out the application form and send it with the required application paperwork.
A collection of frequently requested documents is provided below:
• Filled visa application form
• A Valid Passport
• Proof of a Bonafide Student
• Financial evidence of enough funds to study and stay abroad
• Scores of Language Proficiency
• Admission letter in the abroad university
• Transcripts of previous education (if required)

Also Read: Study Abroad Counseling
Top Requirements For Study Abroad
International students must meet certain standards to complete the admissions process to the desired colleges overseas. There is a common protocol that all universities follow, even though this information changes depending on the university.
Here is a list of the key prerequisites for studying abroad after 12th grade:
• A transcript of grades
The university must get copies of all international students' academic records, particularly their high school, graduation, or 12th-grade transcripts. Students specializing in a certain course should do well in the pertinent subject.

• LORs

Letters of recommendation are referred to as LORs. Students can find two or three people to demonstrate the performance and details. Academic tutors are primarily in charge of this.

• SOPs

Statement of Purpose SOPs. Students must write an essay explaining why they think they are a perfect fit to pursue the course of Study at the university. An SOP's primary goal is to ensure students can express their educational objectives and purposes to university administrators.

• Valid Passport

You must have a current passport to apply and enroll at any prestigious university abroad.

• Student Visa

Another prerequisite for students applying to prestigious universities abroad is a student visa.

• CV

A few institutions request a student's CV or resume to comprehend their work experience better. In the event of poor academic performance, universities may occasionally consider this document. Excellent job history is important for students wishing to pursue disciplines like MBA overseas.

• Proof of Funds

If you intend to apply to any universities overseas, you must have enough money. Numerous factors, including tuition costs, the cost of living, and others, affect how much it will cost to study abroad. This information makes finding funding much easier.

• Maximum Age

After completing grade 12, students must be 18 years old to apply to universities abroad.
Exams to Study Abroad after 12th
The admissions procedure for international study programs includes entrance examinations significantly. Exams differ depending on the nation, college, and programs you select. The student must go through the procedure of passing the entrance tests to study abroad in addition to passing the 12th-grade boards.
Standardized and language proficiency assessments include the SAT, GRE, GMAT, IELTS, and TOEFL. These tests are necessary to qualify for scholarships and international degrees. TheIELTS Bureau instructors prepare their students to pass their tests confidently.

The tests you must take to study abroad after 12th grade are as follows:
• SAT (Scholastic Aptitude Test)
The college board administers the SAT. This is a written exam with a 200–800 point score range. There are 154 questions, and the exam lasts 3 hours and 50 minutes, including the essay.
The test is often given in five different months yearly: March, May, August, October, and December. Different SAT exam fees apply depending on the country a student wishes to study. The typical pricing range used to be between Rs. 6200 and 7000 INR. One of the greatest SAT coaching programs in the nation is provided by the IELTS Bureau. On https://ieltsbureau.com/, there are materials and further SAT information available.

• PTE (Pearson Test of English Academic)

Pearson VUE does PTE testing. With 75 marks, the exam assigns distinct marks for reading, writing, and listening. Each task has 25 marks, broken down into 9 components. A three-hour computer-based test called PTE is available.

The cost of the PTE exam is 13300 Indian rupees. Five times a year, the PTE general exams are offered. Students with a strong PTE score are admitted to prestigious universities and institutions in nations including the United Kingdom, USA, New Zealand, Australia, and Canada.

• GRE (Graduate Record Examination)

The Educational Testing Service administers the GRE for college undergraduate entrance. The GRE score is good for up to five years. Analytical writing, verbal reasoning, and quantitative reasoning are some areas that make up the exam.

The scores range is correspondingly 130-170, 130-170, and 0-6. The GRE is a computer-based test that lasts for three and a half hours. Around Rs. 15,800 INR is the exam price for the GRE general examination in India.

• IELTS (International English Language Testing System)

IELTS is necessary for English-speaking nations, including Australia, the UK, New Zealand, the USA, and Canada. Although the exam is optional, it is the only English language test that UK Visas and Immigration (UKVI) has approved for use with visa applications submitted from inside and outside the UK.
The 2 hours and 45 minutes-long exam measures the candidates' speaking, listening, reading, and writing abilities.

The range of scores ranges from 1 to 9. The speaking assessment (11–14 minutes) can be arranged up to a week before or after the other assessments, while the listening (30 minutes), reading (60 minutes), and writing (60 minutes) tests will all be administered on the same day.
The exam can be taken on paper or a computer. However, the speaking portion is always evaluated.

• TOEFL (Test of English as a Foreign Language)

Educational Testing Service (ETS) administers the TOEFL exam in India for applicants who want to pursue higher education overseas. Universities in the US, Canada, New Zealand, the UK, Australia, and other countries in Europe and Asia all recognize TOEFL results. There are four sections in the exam format: reading, listening, speaking, and writing.

The exam lasts about three hours. The total score range is 0-120, with a scoring range of 0-30 for each section. It is a computerized test, but a paper-based version is accessible for locations without access to the internet, and due to the absence of technological prerequisites, this testing method does not include a spoken evaluation.

• GMAT (Graduate Management Admission Test)

In India, GMAC (Graduate Management Admission Council) administers the GMAT exam. The test is taken to enter graduate management programs such as MBAs, MS degrees, and Masters in finance-related courses.
The exam is widely accepted across the globe. The Verbal Reasoning, Quantitative Reasoning, Analytical Writing Assessment, and Integrated Reasoning components of the exam are divided into four groups. Candidates are given the freedom to decide which sections to undertake in what order.

Exam time, including test instructions and two optional 8-minute breaks, is 3 hours and 30 minutes. GMAC has made it convenient for people to take the test from their homes or locations close to test facilities.

The exam is given all year round, and candidates can reserve timeslots that work best for them.

With an eight-lifetime attempt limit, the exam can be retaken every 16 days and up to five times in a year. Candidates can schedule an online appointment up to 24 hours before the test window. The exam costs about 18,562 Indian rupees ($250). The possible exam results are 200 to 800.

• ACT (American College Testing)

ACT, Inc runs India's ACT. The ACT is for applicants to undergraduate programs in US and Canadian universities. It is a computer-based exam in testing facilities all over India.

Between September and July, the ACT is offered only a few times a year, and international students accept only online applications. Since the exam is primarily for high school students, there are no age or educational requirements for eligibility.

The exam's basic registration fee is around 11,125 INR ($150), and a separate writing fee is approximately 1,224 INR ($16.50). International tuition for students outside India is 3,785 INR, or roughly $51.
The exam is divided into four sections: English (45 minutes), Math (60 minutes), Reading (35 minutes), and Science (35 minutes). A writing section, which is optional and lasts 40 minutes, is also included but is not graded.
With a total of 215 questions, the exam lasts 3 hours and 35 minutes. A scale of 1-36 is used to grade each section. The average of the four exams makes up the composite score. The writing test has no bearing on the final result. The validity of ACT scores is five years.
How to study abroad after 12th

One of the best decisions a student can make to change their life is to study abroad following their senior year. It is crucial to begin studying abroad as soon as possible after completing the 12th grade in India. Since the admissions process begins early, the student should be able to choose their area of Study as soon as possible.
The actions listed below will help you prepare to study abroad after grade 12. A strong academic record is critical to maintaining a high academic profile because the grades from your ninth, tenth, eleventh, and twelfth grades are considered during the admissions process. Some institutions also take into account the assignments and papers you've completed.

• Selecting a field for Study

The selection of a research field should be carefully thought out. There are several options for studying abroad. You must pick a course that you feel secure in and that is appropriate.

• Exams to face

There are a number of competitive exams taken around the world to study abroad. The tests are offered depending on the nation, college, and course you want to study. The IELTS, TOEFL, GMAT, GRE, and SAT are a few of the popular competitive tests.

IELTS Bureau is one of India's top tutoring centers for standardized examinations and language exams. More than 50,000 students have benefited through IELTS Bureau and are currently enrolled in colleges worldwide.

• Shortlisting

One of the most crucial steps in the admissions process is shortlisting nations, universities, and courses. You must first confirm that there is sufficient information available on the subject. You can streamline and speed up the shortlisting process by consulting reliable websites with sound advice and seeking the advice of an international education agency.

• Application

The application phase of the admissions process is a challenging task. During the application procedure, the student must exercise extreme caution. The application must be completed and submitted as soon as possible to the designated college. The information entered throughout the application process needs to be reliable and permitted.

• Acceptance offer

Your provisional acceptance to the program you applied for at the college of your choice is confirmed by the "Letter of Acceptance." The acceptance letter includes all pertinent details on costs, accommodations, length of stay, date of remittance, etc. The acceptance letter is a supporting document that aids in approving a student visa but is not the final approval.

• Visa documentation

As soon as the student receives confirmation of their provisional admission to the college, they can begin the visa documentation procedure. Whatever the start date of the classes, it is crucial to apply as soon as feasible. A letter of admission, proof of ability to pay for studies and housing, a current passport, and health records are essential paperwork needed to apply for a study visa.

• Departure

Moving to a foreign nation is challenging. Before traveling to another country, a checklist should be created. When traveling abroad, you must have a passport, tickets, health records, mobile phone, and bank account, to name a few essentials. While studying abroad, try to get used to the local cuisine, accommodations, neighborhood, regulations, and culture.
Best courses to study abroad after 12th

Study abroad after 12th commerce
After completing your 12th-grade year, you will have a variety of possibilities for studying commerce overseas. The most popular courses to study abroad after 12th grade in commerce are:
• Bachelor of Business Administration
• Diploma in Business Administration
• B.S. in Management Science
• BA in Management Science
• BA in Finance Management
• BA in Accounting Management
• B.Com. (Finance and Accounting)
• Marketing
• Economics
• Mathematics

Colleges relating to commerce can be found in Australia, Canada, the UK, Germany, Singapore, and other nations. Examples include Victoria University, University of Toronto, Munich Business School, and others.
Study abroad after 12th Science

The scientific subject offers students the option of choosing a medical or non-medical. You can enroll in courses to study abroad in both methods. Consider your interests before selecting a stream.
Following is a summary of some of the best scientific strategies for studying abroad after 12th grade:
• Study abroad after 12th medical
• Doctor (MBBS)
• Veterinary (B.V.Sc)
• Homeopathy (BHMS)
• Ayurveda (BAMS)
• Optometry (B.Optom.)
• Public Health Administration
• Occupational Therapy
• Physiotherapy
• Clinical Research
• Radiology
• Audiology
The most excellent universities focusing on medical studies are in the UK, the USA, Canada, and Australia.
Study abroad after 12th Non-Medical

If you choose a non-medical field after 12th grade, you can study engineering in another nation. Some of the most popular non-medical courses are the ones listed below:
• Chemistry
• B.S. in Engineering Management
• Bachelor of Engineering Management
• Mechanical Engineering
• Civil Engineering
• Electrical Engineering
• IT Engineering
• Biomedical Engineering
• Energy Management and Engineering
• Aeronautical Engineering
• Automobile Engineering
• Sound Engineering
• Civil engineering
After the 12th science group, these are the finest courses to take. The greatest places to study engineering are the United States, Australia, the United Kingdom, Singapore, and Germany.
Study abroad after 12th arts

If science or commerce aren't your interests, you can choose the arts field. You will, without a doubt, be able to find art courses all across the world after completing your 12th grade. Some of the most popular methods include the following:
• Bachelor of Arts (B.A)
• Journalism and Mass Communications
• Law
• Bachelor of Business Administration (B.B.A.)
• Fine Arts
• Hotel Management
• B.S. in Product Design
• Bachelor of Interior Design
• BA in Interior Design
The students benefit from the arts stream in both written and verbal communication. The UK, France, the USA, and Canada are the nations that provide the best education in the arts stream.
Study abroad after 12th with a scholarship
If you cannot cover the costs of your Study abroad expenditure, you can apply for scholarships. International students have access to various scholarships available in every country. After your senior year of high school, governments and schools in other nations will offer you scholarships to study abroad.
After graduating from high school, you must meet specific requirements, such as having an outstanding academic record, a strong skill set, and excellence in sports or other extracurricular activities.
Scholarships for undergraduate students in foreign universities


There are several locations where Indian students can study abroad affordably. You may decide to go with one of them. Don't worry about the cost if you choose to study in one of the more expensive first-world countries. International students who wish to do their further education abroad may submit applications for a number of scholarships.
Numerous top institutions provide numerous chances for scholarships. One of the most popular ways to reduce your costs when studying abroad is through scholarships. Merit-based scholarships, need-based scholarships, and additional scholarship categories exist.
These are the scholarships that you can apply to study abroad

• TATA Scholarships
• Inlaks Scholarships
• Ritchie-Jennings Memorial Scholarship
• Shastri Indo-Canadian Fellowships
• The Oxford and Cambridge Society of India Scholarship
• Leverage Edu Scholarship
• JN Tata Endowment Scholarship
• National Scholarship Programme of the Slovak Republic
• MEXT Scholarship for Japan
• Rutherford International Fellowship Program
• Erasmus scholarship
• Chevening Scholarship
• Scholarships in the USA
• Fulbright Scholarship
• Yale Silver Scholar Program
• Inlaks Shivdasani Foundation Scholarship
• Gates Millennium Scholarship
• Harvard Scholarship
• Ratan Tata Scholarship for Engineering Students
• AICPA John L. Carey Scholarship Award
• Stanford Reliance Dhirubhai Fellowships for Indian Students
• The Hubert H. Humphrey Fellowship Programme
• The Indian Trust Fellowship
• American University Emerging Global Leader Scholarship
• Tata Scholarships for Cornell University
Scholarships in Canada

• Shastri Indo-Canadian Fellowships
• President Scholarship in Canada
• Vanier Canada Graduate Scholarships
• University of Waterloo International Master's and Doctoral Awards
• Ontario Graduate Scholarship
• University of Manitoba Graduate Fellowship
• University of Calgary Graduate Awards and Scholarships
• Ontario Trillium Scholarship
• UBC Graduate Global Leadership Fellowships
• Trudeau Foundation Scholarships
Scholarships in Australia

• Undergraduate Academic Excellence International Scholarship in Australia
• UNSW International Scholarships
• Dr. Abdul Kalam International Postgraduate Scholarship
• Charles Darwin University Vice-Chancellor's International High Achievers Scholarships
• Flinders International Postgraduate Scholarships
• Adelaide Global Excellence Scholarships for International Students
Scholarships in New Zealand

• New Zealand Commonwealth Scholarships 2022
• New Zealand International Doctoral Research Scholarships (NZIDRS)
• Victoria Master's Scholarship
• A-C Rayner Memorial Scholarship
• SEG Scholarship
• The Eamon Molloy Memorial Scholarship


Popular countries to study abroad after 12th
There are many locations worldwide that provide excellent educational opportunities and places to work and study. Since these countries are among the best for studying abroad, most Indian students go to countries like the United States, the United Kingdom, Canada, Australia, and Germany.

• Canada

Canada is the most popular Study abroad destination for Indian students. You can study in Canada to earn diplomas, associate's, Bachelor's, master's, and many other degrees. Because Canadian institutions are dedicated to both research and excellent instruction, their students can easily adjust to any kind of educational or professional setting anywhere in the globe.

• USA

Young Indian people are increasingly choosing to study in the US. The majority of international students are from the United States. Associate, Bachelor's, master's, and other degrees are available nationwide. The university and the course itself decide the course length.

• UK

The United Kingdom is frequently cited as having the best higher education system in the world. The UK is the nation with the most Indian students, with over 55,000 enrolling there to study. Lectures, seminars, tutorials, and workshops are a few of the fascinating teaching methods employed in the country.


• Australia



The most universities from Australia are among the top 100 universities in the world. The institutions around the nation offer more than 20,000 different programs. The three stages of higher education are a bachelor's degree, a master's degree, and a doctoral degree. To apply concepts, universities use research-based learning in the classroom.


• Germany

Germany is a fantastic choice if an Indian student wishes to study abroad. In the country, management and applied science courses are well-known. Since the auto industry in Germany is well-known, several universities there offer job prospects to graduates.


• New Zealand

New Zealand's educational system has been influenced by the UK school system, which employs research-based instruction. Colleges in New Zealand offer programs at all academic levels, from entry-level to doctoral. Due to a lack of skills in the nation, graduates from New Zealand are highly sought after.

• France

France is the best country for Indian students to study abroad. The French language is taught in the curriculum, and the French government offers financial aid to students. Colleges in France offer a wide range of professional options after graduation.


• Singapore


More than 15 of the best universities in the world are located in Singapore, offering top-notch opportunities for research and education. Singapore is also among the most reasonably priced places for overseas students to study. More work prospects are available after graduation because of the open company culture and ongoing development.



Advantages of Studying abroad after 12th
It's time to reconsider the next leg of your trip when you accomplish another goal related to your educational aspirations. Numerous options have arisen for people to follow the careers of their choosing as a result of the recent changes in educational systems and the open door policy adopted by institutions overseas for international students. Numerous individuals apply to continue their education overseas in order to earn their international graduate certificate and find employment back home.
Clearly, the advantages outweigh the drawbacks, if any. Learning among a community of students from all over the world, against a backdrop of expansive campuses and cutting-edge facilities, would be the ideal atmosphere for fostering both personal and professional development. The state-of-the-art facilities, which house cutting-edge research being carried out by eminent academics and students, serve as the incubation hub for several scientific and technical advances. Here, students would study under eminent academics known for their subject-matter expertise and gain the self-assurance necessary to use their knowledge in a professional and competent way.

Thanks to the varied curriculum, students would be able to mix and match their electives based on their interests. Additionally, the student groups would offer unrivalled chances to interact with other like-minded students and take part in their activities.
In addition to this, there are a number of advantages of studying abroad that are stated below; it is up to you to make use of the benefits:
• Explore the World: You should remember that enrolling in a degree program abroad is one of your best options for traveling the globe. You get to discover what it's like to live in a new place with new traditions and pastimes. Studying abroad allows you to explore new places, natural marvels, museums, and landmarks close to where you now live. Additionally, you won't be limited to just going within the country where you are studying when you live abroad; you can also visit the surrounding nations. For instance, if you decide to study in France, you will have the chance to visit cities like London and Rome while you are in Europe.

• Education: The chance to experience various educational genres is another reason you might want to think about studying abroad. By signing up for a study program abroad, you will be able to investigate a different element of your major that you might not have found and studied at your college back home. By fully committing to the educational system, you will also feel that it is a fantastic way to encounter and comprehend the people, customs, and culture of your host country.

• New Culture: The majority of students who opt to study abroad likely travel away from home for the first time. They are drawn in by the broad cultural overview when they first arrive in their new host country. You will encounter things while studying abroad, such as new meals, habits, traditions, and social settings, that you have never encountered before. You'll discover that you now understand and value the people and history of the country more than ever as you continue to explore it. You will get the possibility to live a whole different way by doing this.

• Language Proficiency: There is a potential that one of your primary subjects while studying abroad may provide you the option to study a foreign language. You can fully immerse yourself in a new language by studying abroad. In addition, your host institution may offer opportunities for you to enroll in other language courses as part of your official education and the significant language practice you will receive in your daily life. You will learn more about the new culture than just through academic Study if you actively participate in it.

• Career Opportunities: After completing your study abroad program, you will return home with a fresh perspective on culture, a stronger command of the local language, a relevant educational degree, and a desire to learn. All of these aspects draw future employers. Many students, though, feel that they adore their host nation so much that they choose to hunt for employment there. Additionally, you'll see that a degree from a local university will be respected and useful when looking for a job in that nation.

• Discovering New Interests: Studying abroad may introduce you to a variety of new hobbies and pursuits that you might not have discovered if you had chosen to remain in India. You may come to the realization that there are a number of new sports that you may not have attempted back home, such as hiking, water sports, snow skiing, golf, or others, that you have not yet found your interest in. Additionally, you'll have the chance to discover other brand-new, intriguing sources of entertainment. You might particularly enjoy going to plays, movies, dancing, nightclubs, and concerts, to mention a few things.

• Personal Development: There are few experiences that compare to being by yourself in a different country. You may come to understand that studying abroad helps you become more independent and gives you the chance to fully explore the host country. Students who travel while studying abroad satisfy their curiosity and excitement about visiting locations they had only imagined. One benefit of studying abroad is the chance to recognize yourself while developing an awareness of a different culture. Living alone in a new environment can be overwhelming at times, and it tests your capacity to adapt to new circumstances while still being able to handle any problems that arise.

• Graduate School Admissions: Graduate school admissions committees respect Study abroad experiences, just like prospective employers do. Students who have been abroad demonstrate their versatility and their willingness to take on new tasks and put themselves in demanding or stressful situations. The students who have traveled abroad most often show how seriously committed they are to their studies. Graduate programs typically look for applicants who will bring a unique prospect to their institution. Students who have traveled and studied abroad have shown that they have the drive and knowledge to lead in graduate school.

• Life Experience: What are the benefits of studying abroad? This stage may be the only opportunity for many students to spend extended time abroad. In the end, you will find employment and a profession, and the opportunity to study abroad may come only once in a lifetime. You can use this chance to travel the world with no obligations other than the desire to learn more and experience different cultures. The experience of studying abroad is unparalleled. While developing the foundation for their future careers, students would have a blast. Therefore, studying abroad is the best option for you if you want to encounter a variety of things and have an unforgettable experience.
What's Your Reaction?