4 People to Contact to Get Your Study Abroad Plans Rolling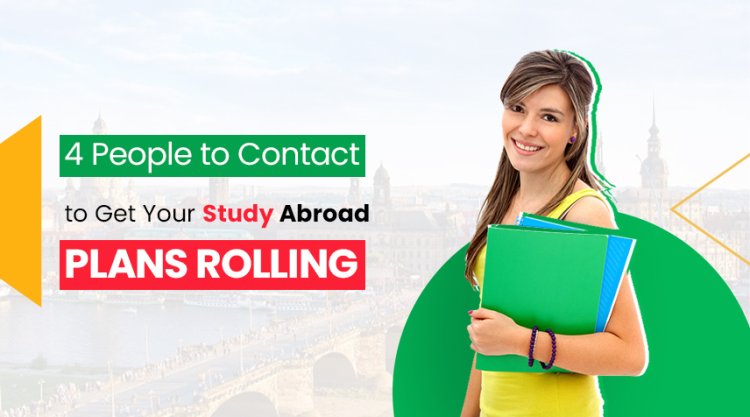 Do you intend to seek counselling to assist you in your study abroad endeavours? But what queries would you pose to them in person?
For various reasons, people look for consultants to help them in their hunt for overseas education. But what do you ask a study abroad advisor when you first meet them? Do you have all of your inquiries ready before you meet with a counsellor for international education? Or do you hold off on asking them till you meet them?
University Bureau, an overseas education allows students to connect with qualified counsellors no matter where they are from.
Students can receive counselling from the comfort of their own homes and have their questions answered over calls and chats. With the appropriate advice and less time, they may narrow their list of universities to apply to, prepare for and take the IELTS, and have their study visas approved. Make sure to confirm that your preferred university will accept it.
It helps to expedite the process and demonstrates your clarity on your plans when you arrive with questions and know exactly what to ask your education counsellor.
When talking to a study abroad counsellor about your options for studying abroad, you need to ask a few important questions.
Our counsellors inform us that many people have concerns about the price, expenditures, and application procedure. Students starting to think about studying abroad will also have many questions during the preparation phase. Students who have these questions or concerns can get assistance from our counsellors, who can also help them understand what occurs once the applications are filed.
Questions to consider when preparing
How soon should I begin making plans to apply to universities overseas?

How do I select a country to study in?

Which schools and universities will accept applications through the counsellor?

What prerequisites exist for studying abroad?

What sort of applicants is foreign colleges seeking?

What kinds of difficulties should I be prepared for?
Inquiries to make regarding the application procedure
What paperwork do I need to study abroad?

How should I prepare for exams if I want to study abroad?
How significant are SOP and LOR?
Which intake is ideal for studying abroad?
How well-known is the university?
What kinds of accommodations can I find?
Could you connect me with a few of the students who have previously received counselling and moved abroad?
Inquiries about prices and expenses
Is studying abroad a costly endeavour?

How much money should I put aside to study abroad?

What is the most affordable way to study abroad?

How ought I handle my money?

What should I do follow the submission of the applications?
What if you get rejected?
Will I find employment once my studies are over?
Questions to consider when preparing
Before selecting a location and university, you will undoubtedly have several questions. It makes sense that you could not fully understand the entire process. You might ask your overseas education counsellor the following questions as you prepare to study abroad.
When should I begin making plans to apply to international universities?
Always start planning one year in advance if you wish to attend a university or college abroad in the fall of the following year. Even while some institutions offer rolling admissions, it's best to make your plans well in advance of any deadlines. You'll be able to manage your funds better, plan your schedule, and get ready for the standardized tests if you get started early.
To make your planning easier, ask a counsellor about the application dates for various institutions abroad when you chat with them.
How do I choose a country to study in?
While evaluating your profile, the counsellor may determine that despite your desire to study in Australia, any European nations would be a better fit.
There isn't a perfect place to study, which means that your academic needs and financial situation may present you with additional alternatives you hadn't considered.
Consider that you are seeking engineering programs in the UK that include research. However, after looking into all your possibilities, you discover that the program is pricey and that there are little career chances available in the nation once you complete your studies. Opportunities for the same course may be better in Canada or the USA. Making educated judgments will be easier if you consult with study abroad specialists.
Which schools and universities will accept applications through the counsellor?
You can apply to a large number of colleges worldwide for your preferred subject. Your choice of course and the opportunities it offers will determine the kind of institutions and universities you can apply to. You must download prospectuses from several universities and read through them if you want to know what kinds of schools or universities would suit your academic profile. The prospectus contains comprehensive details about academics and student life in a foreign country.
What credentials are needed to study abroad?
Passing the 12
th
grade is the
minimum requirement for studying at overseas universities
. Institutions will set academic standards. Ask one of our counsellors if you meet the requirements before applying. GPA is important when studying abroad. Some colleges accept applications from students with GPAs between 2.5 and 4, while others may demand higher marks.
Additional requirements include:
a strong essay,

work experience (which varies from school to program), and

passing the student visa interview.
What kind of candidates are foreign colleges seeking?
The admissions committee frequently looks for applicants who truly want to attend a university overseas and are not just exploring options for local residency. They seek out pupils who can express themselves clearly and who are passionate about their academics.
Universities choose candidates based on their accomplishments and qualities outside of their academic performance.
What kinds of challenges should I be prepared for?
Students that travel may have a hard time adjusting to their new environment. Nearly everyone initially finds it difficult to adapt to new surroundings, but it becomes less difficult over time.
The following issues could provide difficulties for some students: culture shock, loneliness, and homesickness. Some kids could argue that these are not struggles because they are all a part of growing up.
Understand
Studying abroad is the turning point in many students' educations, transforming their lives irrevocably. Indeed, nothing will ever be the same once you've experienced another culture. While some students choose to complete their entire degree at universities overseas, most travel abroad for a summer, winter term, or a few weeks as part of a short-term program as part of their college bucket list. Plan a study abroad trip today and join the expanding community of students who love to travel, are adventure seekers, and are pursuing international education. Here is all the insider information on who can assist you in planning your study abroad itinerary.
When making plans to study abroad, who should you consult?
It takes much planning, dealing, and conversation to get ready to study abroad. Fortunately for you, a vast army of people is prepared and eager to help you navigate the process and realize your aspirations.
To start with, you should go to the international office on campus for assistance in developing a sound plan. The most recent information on their program is kept in-house in a separate location.
Here are some people you should speak with in order to ensure that your visit is successful and that all of your needs are met:
Studying abroad allows one to have a new perspective on the world.
Your study abroad consultant
Your first point of contact when getting ready for study abroad should be with a coordinator on your campus. Other universities have full-fledged study abroad offices with advisors who specialize in area destinations, while some colleges may have dedicated academics or administrators who carry out this duty.
The most knowledgeable international education counsellor for your travel requirements is a study abroad, advisor. They can evaluate your preferences and are aware of any restrictions or rules imposed by your college. Most likely, your university offers the greatest program for you. You are more likely to be able to use your financial aid and earn transferable credits by taking part in a study abroad program created by your university.
A study abroad advisor can advise you on how to be ready for your study abroad experience and whom you need to contact. Their responsibility is to ensure that you are ready for the adventure and will benefit fully from your study abroad experience. Despite their frequent underpayment and excessive workload, some administrators continue to work in this sector because they are passionate about it. They usually won't provide you with a specific location because you need to do your investigation. Take control of your journey, and ask your advisor any questions you may have along the road.
Your academic advisor
Many universities offer an academic contract, which is your assurance that you'll get the credit you'll need when you get back from your trip. When you're getting ready for a study abroad program, your academic advisor may inform you what kind of credit you're likely to obtain and how it will fit into your overall degree plan when you get back home, much like a typical semester at your college or university.
When preparing to study abroad, meeting with your academic advisor is essential to ensure that it won't cause your college career to be prolonged. Meeting with this advisor in advance can help you save much hassle once you're overseas because you'll be proactive about your transfer credits and have planned your coursework to meet home standards.
Your financial aid advisor
When getting ready to study abroad, you'll need to collaborate closely with a college financial aid advisor. Since studying abroad can be expensive depending on where you go and how long you stay, most participants use financial aid to make the most of their experience.
Student loans are the most popular form of funding for international studies. Many hoops must be jumped through with some college financial aid advisers and their offices to guarantee that you will indeed be given credit for your expertise. Nevertheless, use every resource at your disposal; that is why they are there!
You can learn about more possible financial resources, such as scholarships, from your financial aid advisor.
And lastly…your guardians & parents.
Whether they financially support your study abroad trip, it is important to keep them informed. You could want to discuss with them how important this experience is to your degree program, how studying abroad would improve your resume, and how it might lead to excellent career prospects after graduation. Recognize that it's crucial to keep the family content and informed because they'll probably be handling logistics while you're away from home.
Last but not least, a parent's role is to worry about their child while also being thrilled when they excel at something they enjoy. Inform them of the details of your study abroad experience, and get ready for them to join you for fun!
To avoid sounding TOO High School Musical, your travels are not an isolated event. With this all-star line-up, your passport will glitter with stamps before you realize it. You don't have to do it alone, so don't become frustrated trying to figure out how to get ready to study abroad and who can help.
The University Bureau's Directory of Study Abroad Programs is the best location to start planning a study abroad trip if you can't locate the ideal program on your campus or if your school permits you to participate in external programs.
Programs can be found by country, subject area, term, and other criteria. Every search includes vital details like price, description, and program features in addition to contact details so you can get in touch with each program directly.
College study abroad is a fantastic method to experience and comprehend different cultures at such a crucial stage of your academic career. Don't ignore an opportunity that could shape and mould your life into something you could never have dreamed of by sitting back.
What's Your Reaction?