How to Increase Student Enrollment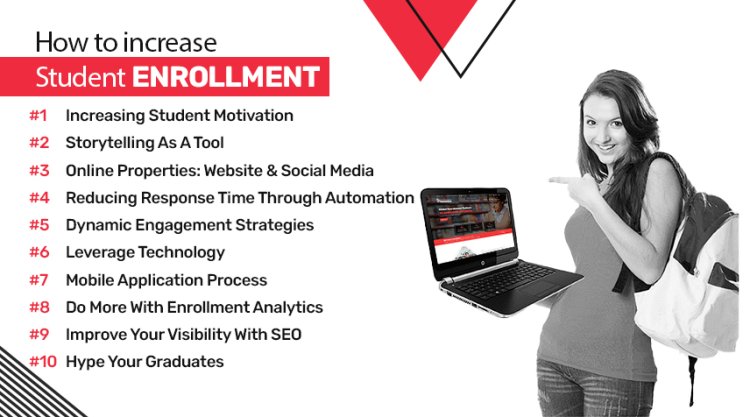 For admissions staff, reaching the student enrollment goals is not exactly a piece of cake. This tech-savvy generation is difficult to reach since there are many new-age learning possibilities. This will be highlighted much more if we look at some data.
69% of admissions officers at community colleges and 55% of those at private bachelor's schools are highly concerned about fulfilling their institutions' goals for new students, according to the University Admissions Officials survey.
To move closer to your student enrollment targets, you're probably exerting much effort for each student. What works is still an open topic. How can we steadily grow the number of students enrolled? Let's look at these ten suggestions that have been shown to boost college and university enrollment .
Increasing Student Motivation
Emotion is significant in inspiring and motivating a student to take the initial step since selecting a college is a very emotional decision. Knowing what motivates your prospects can help you develop more robust marketing messaging, ad copy, and admissions pitches that speak to their objectives and encourage action. Everything else fails if the motive cannot be adequately interpreted.
According to a University of Rochester research, college students' reasons for pursuing higher education have a significant impact on their grades and their capacity to remain enrolled in classes. Sufficiently motivated candidates are more likely to enroll in and continue in their selected programs.
However, you may act as a motivator and influence potential students to choose your institution over others. Testimonials and success stories are a terrific method to do this. The success of present or former students who speak the language that students want to hear has helped the majority of universities and colleges that have won with an incentive to succeed.
While posting these success tales and recommendations on your website is vital, you must also promote them. Create social media accounts, improve your website's search engine optimization, and promote your online content to enhance college enrolment through digital channels.
Storytelling As A Tool
What is your institution's history? Education teams sometimes forget that a college is a brand too and must be constructed as one amid enrollment objectives, mainly when you consider that the finest type of education marketing is narrative.
Your candidates are your audience in your eyes, and all it could take to alter everything is for you to tell a tale. It is a fantastic technique for appealing to the feelings of your target audience, which also increases their sense of participation and helps them better comprehend your organization's ideals. Your tales may be conveyed in various ways and on multiple platforms, which might promote your brand in numerous ways.
Online Properties: Website & Social Media
The dilemma of where to share stories naturally arises when you produce them. Social networking is helpful in this situation. Today's students' news, inspiration, research, and even opinions are all found on their timelines.
According to a survey by Social Admissions, one of every two teenagers uses social media to investigate which schools or universities to apply to, demonstrating just how powerful this medium's effect is. As a result, you must carry your story to where your audience is. Also, remember that using effective social media methods can only guarantee that your prospects are engaged with your institution consistently.
Students frequently visit your website to learn more after adding your school to their list of potential schools to consider or after applying for undergraduate admission. 46% of the students in a survey regarding the first awareness stage said college websites were the most helpful information source. Attract students' attention and adequately communicate your institution's principles to them.
A well-planned website, both in terms of layout and content, may significantly impact the students' choice. Over 116 million hours have been spent on a university's website. We may confidently presume that a significant portion of these guests would be prospective students who wanted to learn more about the institution.
Reducing Response Time Through Automation
The generation of today seeks immediate responses to their questions. Education marketers who don't adapt to this generation's communication preferences risk failing to engage with them in a meaningful way. Since it's sometimes hard for candidates to change their minds after they've determined they prefer a specific school, the earlier you establish the emotional connection, the greater your chance. This is crucial to build an emotional connection between college and the potential student.
Most data professionals agree that your leads' reaction times should be 5 minutes or fewer. Even though it may seem almost impossible, it is feasible.
Dynamic Engagement Strategies
Your candidates come from various backgrounds and have multiple viewpoints. Your engagement strategy needs to be adaptable in light of this. In the digital age, where everyone is attempting to pitch to millennials and Generation Z, they have grown up. They are adept at determining the motivation behind the signals sent their way. The students search for something unique to them that may enrich their life among all the noise.
This issue is resolved by a higher education marketing automation and engagement platform that scales personalization. It first retrieves the prospect's background data before tracking their actions and behavior. Based on that, it creates a succession of compelling messages that may be different for two separate prospects yet are still applicable.
Leverage Technology
Technology is being used with more significance and more authority. The marketing and admissions departments depend on it, not merely use it. Additionally, recruitment teams may change their strategy more successfully than ever thanks to technology that automates, analyses, and samples data.
While typically a favorable trend, technology has its drawbacks, particularly for less technologically savvy institutions that lack the time or money to establish a marketing automation system or a Higher Education CRM for universities owing to integration and training issues. The good news is that technology is becoming more user-friendly with plug-and-play models, which is great for educational institutions that don't want to make significant infrastructure investments.
Enrollment teams have been using chatbots, alerts, and autoresponders to serve the candidates better. Our marketing and engagement initiatives are also made more accessible by technology to meet our enrollment targets. Social media platforms like YouTube, Facebook, Twitter, Instagram, Snapchat, mobile apps, and others show how technology can work wonders when used in conjunction with the appropriate tool and messaging.
Mobile Application Process
The use of mobile devices is increasing, particularly among younger people. Imagine using your phone to access a badly designed, non-responsive website where you must continually zoom in and out. Anyone would just stop using the website out of annoyance and forget about submitting an inquiry.
With good website design, students may apply at any time and from any device thanks to responsiveness without degrading the user experience. Your university will benefit significantly from a mobile-friendly application process and form, which will immediately affect your application rates.
Even the communication methods you select must work on mobile devices. Ensure your emails, for instance, have been optimized for mobile devices if you are composing them. To avoid degrading the user experience, your website, contact information forms, applicant portal, etc., must be mobile-friendly.
Do More With Enrollment Analytics
When enrollment marketing first began, its success or failure was only determined by its absolute level of success. Marketing is a lot clearer now. You may examine the most effective methods for generating leads for higher education, applicant drop-off points, appealing messaging, and action points.
These reports ensure that your resources are appropriately allocated so errors can be rapidly fixed and the right decisions can be taken.
But without the aid of an appropriate reporting method, this cannot be accomplished. Your marketing budget may be limited since you are an educational institution. To achieve better outcomes, you must map out what works best for you and where you should invest more or less money.
Improve Your Visibility With SEO
Search engines are the primary way that 67% of prospective students learn about potential colleges. You must spend money on search engine optimization for your website and all of its content if you want to boost your institution's exposure online. Not just your homepage, but every page needs to be created to rank on search engines. Instead of using the college's name to find college, prospective students typically search for phrases like "Best art programs" or "Business courses."
Conduct a keyword search. Choose a group of terms or phrases that describe what your institution or university provides and what potential applicants would be interested in. There are several tools available that can tell you what your target audience is looking for. Use this information so that your school shows up first when prospects "Google" you.
Hype Your Graduates
People are skeptical of what you say. They believe the opinions of others about you. Examples of trust factors that boost your brand's legitimacy include student recommendations, successful case studies, accolades, and recognition. Prospective students might be significantly persuaded that your university is the best choice for them by displaying the achievement of your alumni.
Authentic tales and culture keep students interested throughout the admissions process.
It's harder than ever to enroll students. And the truth is that things will still be difficult. Therefore, it is necessary to abandon traditional enrollment methods since they eventually slow down the admissions process. The easy answer to this problem is automating the student enrollment process using technology, especially if your team has access to it immediately. This will result in a final increase in student enrolment.
Visit https://universitybureau.com/ for a student workflow automation tool, an application portal, integrated phone and texting services, email campaigns, and more. Integrate your CRM with your SIS to manage the entire student journey, from website visits to course completion. You may manage the whole enrollment process from inquiry to application to enrollment.
What's Your Reaction?