How to Study Abroad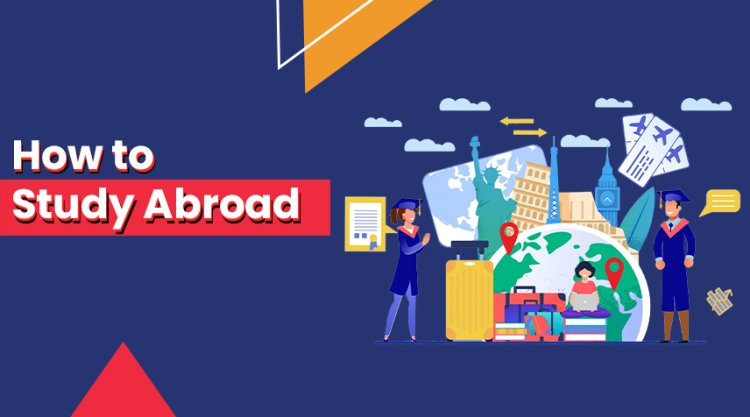 Have you ever wondered where to start and how to go about studying abroad? If you have the opportunity to study overseas, the University Bureau will change your life. But first, you should know the few details about how you want to pursue your studies abroad. It takes a lot of preparation to apply for a study abroad program. When should you travel to study abroad? Are you able to afford it? How do you apply, and which nation should you even pick?
1. Make a plan
Don't let the numerous study abroad falsehoods out there deter you. Even though it may seem like there are many obstacles between first selecting a program and being on campus, careful planning and a positive outlook can considerably help. How does studying abroad work? can be answered in a nutshell by saying that the key choices you'll have to make are when to study abroad, when to go, and how to pay for it. Additionally, persuading your parents to let you study abroad could be difficult. Make sure it fits into your life before we go into the specifics of how to study abroad.
When should you travel to study abroad?
If you're prepared to pursue a PhD or master's degree overseas, this may be an easy choice. Additionally, studying abroad for a bachelor's degree is a fantastic opportunity. To study abroad, you do not need to apply for a whole degree. Through your native university, it is quite possible to spend a semester or two studying abroad. Simply figure out how studying abroad will fit into your academic calendar, course requirements, personal and professional duties if this is the course you decide to choose.
Depending on your college or major, you might not have much choice. Not many universities let first-year students travel abroad.
For those considering short-term programs, the third or fourth year of your bachelor's degree is typically a regular time to travel overseas.
Consult your university bureau academic advisor or the study abroad office at your university for information on what's typical and practical for you.
Can a pre-med or engineering student go abroad to study?
Yes, you can pursue a career in engineering or medical abroad. Due to their rigid academic requirements, there is a widespread misperception that studying abroad won't work for students majoring in pre-medicine or other STEM areas. This is false. While you may need to make advance plans if you have many academic requirements, studying abroad is possible and will probably strengthen your application to medical school because you will have developed important soft skills.
When you've decided to study abroad, get in touch with the pre-professional advising office at your school. They can work with your schedule to see if you can make time for it. Even if you can't spend a full year abroad, you may usually participate in a summer program or at least a semester.
Also Read: Best Countries to Study Abroad
Can you afford an overseas education?
It cannot be overstated that studying abroad may be expensive. You're not alone if you wish you could ask young people studying abroad how they do it when you see them. Those who desire to study overseas may be greatly discouraged by the cost. However, there are ways around this. To save money, you can hunt for student employment overseas, apply for scholarships, and come up with other original ideas.
What is the cost of studying abroad?
The cost may vary depending on the country you visit and how long you stay. Along with program costs, you'll need to budget for airfare, lodging, and the basic cost of living while studying abroad. To learn more about setting a budget for expenses in particular countries, consult the university bureau's country guides. Be prepared to add a sizeable sum of extra cash to that number for things like weekend getaways or fancy dinners!
There is good news, though! If you want to pursue a bachelor's degree while studying abroad, you have a lot of choices. For instance, if you are presently getting financial aid for college, that aid will still be used for your study abroad course. Other methods include obtaining scholarships or securing a student loan. Even if you cannot afford a full academic year of study abroad, you can still benefit from this life-changing opportunity by participating in a summer program.
How do you get your parents to agree to let you travel abroad to study?
It's possible that your family won't fully support your desire to study abroad. Put yourself in their shoes; they're probably just worried, especially if they've always lived nearby or if you've never been on an international trip. However, you will succeed if you can persuade them and allay their worries.
Be prepared first. They'll ask you a lot of questions, and you'll need to be able to respond. Make sure you understand any potential payment methods. Explain the advantages of studying abroad and assure your family that you'll keep in touch with them frequently while you're away. You will undoubtedly stand a fair chance of persuading even the most protective parents if you approach the subject with empathy.
2. Begin your search
The fun starts once you have a general idea of when you'll go and how you'll pay for it (as well as approval from your parents if you need it). The next step is choosing your destination!
Where should you go to school abroad?
Maybe you already know exactly which university you want to attend and the continent or nation you want to study in. Or perhaps, as a pre-med student who is genuinely open to studying abroad, you wish to attend a prestigious biology school.
Find out if your home university collaborates with other universities overseas if you're interested in learning more about short-term study abroad opportunities. If so, transfer credits may be the simplest option for you to take. Consult your study abroad office for a list of the many colleges your school has agreements with.
Consider your major
For English literature majors, studying in China might not make sense. But going to China to study could be a fantastic choice if you're interested in world literature. While there are probably excellent programs in many countries, certain nations are renowned for particular fields of study. If you're just starting your search, this list can be a fantastic place to start. Think about the following concepts:
Want to start a business career? International business centers can be found in these major cities: London, New York City, Hong Kong, Toronto, Sydney, and Tokyo.
The world's most well-known literary centers can be found in Santiago, Oxford, Paris, Saint Petersburg, Dublin, and Edinburgh, if you're a bookworm.
Where is the world's best healthcare available, and where does it most desperately need it? Try India, Thailand, Ghana, South Africa, or Denmark.
European political hotspots include the Red Cross in Geneva and the EU headquarters in Brussels. In New York City, you can locate the UN headquarters.
Are you prepared to think creatively? Consider traveling to a city that is known for its innovation, such as Singapore, San Francisco, Berlin, Tel Aviv, Stockholm, or Lisbon.
Consider visiting a city with a strong visual arts tradition and a tonne of museums, such as Florence, Paris, Barcelona, Beijing, or Chicago.
Cities all across the world have thriving theatre and music scenes. Nashville, London, Johannesburg, Buenos Aires, and Berlin are a few of the most well-known.
You can't beat seeing cities like Athens, Jerusalem, Cusco, Istanbul, or Moscow if you're interested in archaeology or general history.
Visit Finland, the Netherlands, or Japan to learn about the top educational systems in the world. If you want to teach English, consider Vietnam or Colombia.
Think about your hobbies outside of school.
You're not simply a student, either! So consider your extracurricular interests. Do you want to study at the beach for a while? You might also choose to go camping on the weekends. Think about the following concepts:
Take into account nations like Tanzania, Australia, South Africa, New Zealand, Costa Rica, or Australia.
You're passionate about food.
Take Tokyo, Casablanca, Rio de Janeiro, Dubai, and Hong Kong.
You focus solely on the design.
Consider iconic fashion hubs like London, Los Angeles, Madrid, Paris, and New York.
You enjoy drinking coffee or tea.
Think about the cities like Stockholm, Melbourne, Rome, Singapore, or Vienna with some of the best café cultures on the planet.
Consider the expense of living.
Your spending plan should be a significant consideration when studying how to study abroad. Most of Western and Northern Europe's nations have higher living costs. More cheap countries can be found in South and Southeast Asia, Latin America, and Eastern Europe. If maintaining a strict budget is essential to you, think about moving to a city with a lower cost of living. Keep in mind that you can find more affordable areas to study outside of bigger cities, especially in the more expensive countries. If you have a specific country in mind
If you've already chosen the country where you want to study, the next step is to choose a college. You should take into account a number of factors when selecting universities, including the following:
Does the university have a program that matches my professional objectives?
You must be very careful to meet specific standards to apply to American medical schools if you wish to complete your bachelor's degree in biology in England and then return to the USA for medical school. Do some preliminary research! If you choose wisely, studying abroad can advance your career.
Can you transfer my credits back to my previous institution?
This is for students who only study abroad for a semester or a full academic year. Regarding major requirements, some schools may be picky about what study abroad credits they will accept toward your degree. Make sure your school will let you include the biology course you take in another country toward the biology requirement for your major in public health! Make sure you formally record the school's approval in advance.
Where can you find programs to study abroad?
After choosing a geographical area, it's time to start seriously compiling a list of suitable universities. You can reduce the number of schools on your final application list using the resources provided below.
Search engines for education
While Google can be an excellent place to start, you can use specific education websites like educations.com/universitybureau.com to research and compare programs, contact colleges directly, and speak with existing students. To make your study abroad experience as simple as possible, you can focus your search for programs by city, state, kind of institution, and subject area.
If picking the right school over the right country is more important to you than choosing the right country, it would be a good idea to look at rating websites like QS that issue annual rankings of the best schools worldwide. However, don't put all your faith in these figures. Due to the ranking criteria used by these websites, older, established, significant research colleges are given a higher position. As a result, just because a school isn't ranked first doesn't imply it doesn't offer a fantastic program that's specifically tailored to you and your interests.
3. The application process
Do you still have questions about how studying abroad operates? Now is the appropriate moment to begin the application process. We guarantee that it's not as difficult as it might seem if you already have a list of colleges in mind. The process will probably be similar to applying to a home university. Continue reading to learn more about what precisely goes into a study abroad application.
Get prepared
Get organized before you do anything else. To keep track of due dates, we advise you to start with a spreadsheet. Additionally, you might wish to keep a list of prerequisites for each institution. Throughout the process, you should return to this spreadsheet frequently to make updates. If creating a spreadsheet isn't your thing, consider creating a master document or checklist that you can refer to.
Apply
Prepared to apply?
Here are some fundamental prerequisites that might be included in your application, though the process will differ depending on the kind and level of the institution you're applying to; which are:
Grades
Whether it was your undergraduate university or perhaps your high school, most programs want to know how you performed there. To be eligible, students must achieve the minimal GPA standards set by several schools. To get your transcript sent to the school you're applying to, get in touch with your current university as soon as feasible. You might need to translate your transcript into another language or convert your grades, depending on the country's grading system.
Test scores
English is used as the primary language of instruction in many international programs. You will need to take a test to prove your ability to the school if English isn't your first language. The TOEFL iBT test is accepted as proof of proficiency by many organizations, including all universities in popular study abroad countries like the UK, Canada, Australia, and the US. You can check your readiness for the TOEFL iBT exam here.
Depending on your chosen country, the universities you are applying to can also require more generic standardized tests. For instance, many American universities require SAT or ACT testing for undergraduate students. If you wish to apply to an American graduate program, you might need to take the GRE.
Motivation letter or personal statement
Some colleges will ask you to submit a personal statement, frequently referred to as a study abroad essay. Your exceptional fit for the program is explained to the school in your statement. It's an opportunity for you to showcase your personality, your academic priorities, and how the institution will help you achieve your goals. Although lengths for motivation letters might vary, aim for an average of 500 words.
Your motivation letter should do several things:
Briefly explain your motivation for choosing the particular university you are applying to. Think about what you can do for the university and what you can do for them.
Describe why you wish to study there rather than in your nation.
Provide evidence that you could succeed internationally and specifically at their university.
Your motivation letter should not:
Send a general letter to all of the institutions you're applying to.
Create the impression that you wouldn't be able to handle studying abroad as an international student.
Suggest that you simply study overseas to meet people and go out to parties.
Teacher recommendations and references
Some schools may request one or two academic references, such as your teachers, along with your application. They routinely ask professors to give their references straight to the university. Sometimes, you might be forced to mail them in yourself.
Choose instructors whom you get along well with and who fully comprehend you. These teachers may be ones you now have or have had in the past. When you ask them for an academic recommendation, give them your CV and a list of the institutions you're applying to so they can customize their references. For them to compile the connection for you, give them at least a month's notice. Also, be ready to remind them.
Interviews
Although uncommon, interviews may be conducted over the phone or via video chat. Interviews may seem intimidating, but they're a terrific opportunity to express your individuality. Interviews are a two-way street, so use them as a chance to ask questions and determine whether the school is a suitable fit for you.
You might be asked the following at a study abroad interview:
What draws you to international study?
What draws you to this particular program?
What are your long-term professional objectives?
Have you ever traveled abroad? What led you to it?
What aspects of the culture of the host nation are you most anticipating?
How would you participate at the institution?
What do you like to do on the weekends?
You should be prepared to ask some questions of your own. Research the company's answers to your inquiries before contacting them. If you take the time to do extensive research, the interviewer will know that you are serious about their program and studying abroad. Conducting a practice interview with a friend or member of your family before the real discussion may be helpful.
An interview for a study abroad program will improve if you are prepared. Keep in mind to email a follow-up thank-you note following the interview!
Writing/Art Sample
Although most programs won't ask for it, if you're applying to one that emphasizes writing or the arts, you might be requested to send a sample of your work. A research article could be part of an academic program. This could be a portfolio of your best work for an animation school.
4. Apply for scholarships
Scholarships can be a great way to significantly reduce the expense of studying abroad, which can be costly. There are many places to seek scholarships, which come in various forms. They might cover a full program or just a few hundred dollars in tuition. Don't disregard the minor scholarships, though! Any sum can help you greatly in achieving your goal of studying overseas. Not sure where to begin? Allow us to be your guide.
Start with our Study Abroad Scholarship Directory
Team at university bureau have assembled a list of 440+ international scholarships from 37 different nations. The effort of locating and compiling scholarship award summaries, prerequisites, and application dates has already been completed for you. Therefore, be aware that these scholarships are real and deserve your application. Some of these scholarships are linked to specific colleges, while others are available to students who choose to attend school anywhere in the world.
Examine grants provided by the government
Students who intend to study in certain countries may be eligible for financial aid. The Swedish Institute, for instance, provides financial aid to international students who want to study in Sweden. You can find out which other countries provide government-funded scholarships through a quick Google search.
Look at the scholarship section of your school
Whether you're interested in learning more about how to pursue an education abroad in a nation that isn't listed in our database of scholarships, you should see if any local universities offer financial aid to prospective students. Most colleges will include a page with information on scholarships. Check if your present university provides students grants to study abroad at other universities if you're considering a short-term program.
5. Apply for financial aid
In case, if your school has provided you with a private grant, you most likely can use that money for your study abroad expenses. If you have any special inquiries, be sure to contact the financial assistance office at your school.
6. Accept an offer of admission
You succeeded! The real fun starts once you are admitted to a school overseas. But possibly more than one school has accepted you. You must now choose which school to attend.
How to select a school if you have multiple options
Make a list of the advantages and disadvantages of each school you are considering. When selecting a college, many factors need to be taken into account.
Personal priorities: Think about your goals for the future for a while. What does your ideal existence entail in a few years, and what can you do to get there?
The curriculum and faculty: Learn more specific details about the courses you will take in the future. Do they plan to assist you once you graduate? Do more study about topics like internship possibilities, faculty involvement, and class size.
Facilities and support services: Your future experience will include access to the library, the gym, career services, academic advice, and services for international students. Make sure you're looking for these.
Location and student life: Check out the university's website to see what sports teams, clubs, and societies they offer to get a feel for student life. Visit the social media pages for the college. What feeling do you have? You see yourself there, right?
Living and educational expenses: How much are the fees? What is the cost of living in the two nations where the schools you are considering are located? Which school provides greater scholarships or financial aid?
Your instincts: Avoid picking a school only because your parents do. It should be a place you truly desire to be if you're going to spend a few months or a few years abroad.
Also Read:- Top 11 Myths about study abroad
Did not receive an admissions offer?
You might feel highly disappointed if none of the university you applied to accepted you. But remember that many programs are fiercely competitive. Just because a university didn't believe you were the proper fit today doesn't mean they never will. The advantage is that you are now fully informed on how studying abroad operates. Continue applying, consider more university, and try the following year again!
What's Your Reaction?