How to Pick your University in Abroad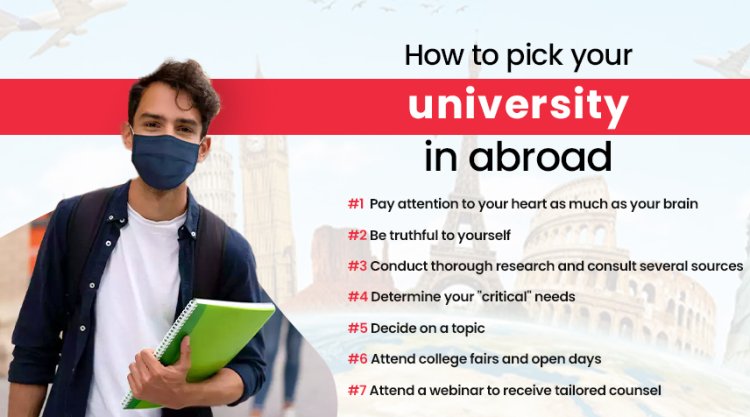 With thousands of universities available worldwide, one of the most exciting aspects of choosing to study abroad is that you have, quite literally, an infinite number of options. With dozens, if not hundreds, of different courses offered by each of these universities, it might be challenging even to know where or what to study.
Choosing a Bachelor's or Master's program has always been difficult, especially when there are too many possibilities to take into account. In actuality, having to choose your perfect study abroad program from the other options is the most significant roadblock in your way.
Although the sheer number of opportunities is intimidating, you must quickly begin.
The following steps will assist you in beginning your search and selecting a university overseas. Here are some overarching considerations to keep in mind before diving into the details:
1. Pay attention to your heart as much as your brain
Although they could lead you in opposite ways, each has good points. It can often be beneficial to start by focusing solely on your passion area before considering other options.
2. Be truthful to yourself
Studying abroad is a significant commitment for anyone pursuing a degree of any kind. Make sure you want to do something rather than just because you feel you have to. It will be simpler to persevere through the challenging times if you are doing it for the right reasons.
3. Conduct thorough research and consult several sources
It can take one to four years to complete a degree and can be very expensive. Make sure you are informed. It will almost surely be a worthy investment and a life-changing experience. For official information, see the University websites. Student forums can provide a more extensive range of viewpoints. Check out the Course Matching Tool if you're considering studying in the US, UK, or Australia. After you respond to a few straightforward questions, it matches you with the ideal course and university.
Your study location will serve as your new home, so pick a location where you'll feel secure and at ease.
Consider your ideal area, such as a bustling city, a dynamic exotic paradise, or a serene picturesque retreat, to assist you in choosing a location.
Consider more elements like:
Language
Local culture
Climate
Career opportunities
Check to see whether you have a network of friends or family in the country you'll be studying in that you can turn to for support. Additionally, learn how the nation views the communities and organizations you are a part of.
4. Determine your "critical" needs
You can focus your search by selecting what you absolutely want to do or want to avoid. For instance, what if you only wish to attend a university abroad where Spanish is the primary language of instruction? Maybe you must stay within a specific price range or close to home? It's best to establish some particular search criteria at this point. Here are a few instances to think about:
No universities in crowded, huge cities; only universities in a specific nation or region of the world
Why Only prestigious universities (in general or in a specific subject)
If you wish to study a subject that is offered at an extensive selection of universities, this step will be especially helpful. If you want to specialize in an exceptionally uncommon discipline (like maritime archaeology), you'll probably find that you already have a more focused study area.
5. Decide on a topic
Things could become more difficult at this point. Many people can choose what they want to study right away, but the decision is more complicated for some people. If you're unsure about what to study, you could wish to take into account a liberal arts degree, which is renowned for having a more open curriculum. Otherwise, limiting the list to three or so topics would be prudent. If you're having trouble doing that, consider these inquiries:
What are your favourite subjects to study about?
What abilities do you hope to develop through your studies?
Do you wish to pursue a career that calls for a specific degree?
It's fantastic if you already know what you want to study. Even the most popular subjects aren't offered everywhere, so some colleges will automatically be eliminated. However, more crucially, you'll be able to choose your chosen universities based on their programs and courses.
When determining where to study, picking a subject is an excellent start. Think about your favourite subjects or the abilities you'd like to develop.
If you're unsure, several colleges offer integrated degrees that let you study multiple subjects, such as business and finance or history and art. Picking a subject you enjoy will help make studying worthwhile because it can be difficult.
Once you've decided on your desired program, you can eliminate colleges that don't have it. The shorter list of options will simplify your decision-making process.
6. Attend college fairs and open days
It will take much investigation to select the best university overseas for you. The majority of this is frequently done online or through university brochures for overseas students. To gain a better sense of the university and obtain answers to all your questions, it is usually advisable to visit a location in person and/or speak with a university representative.
Even though it can be very challenging for overseas students to attend open days, it's always worthwhile to do so if you can. A wonderful way to meet university officials is at international university fairs like the QS World Grad School Tour. Rather than attending one open day at a time, you can speak with professionals from several different universities on the same day. In order to guarantee you a spot and the ability to fit these activities into your schedule, check for them in advance.
7. Attend a webinar to receive tailored counsel
Are you eager to start your study abroad adventure? If you're interested in earning a master's degree in an International University, contact https://universitybureau.com/ to get the best advice on "Careers in Germany with a Masters Degree."
What's Your Reaction?